SOFLAM Laser Target Designators
United States Special Operations Forces (SOF) employ a number of laser target designators (LTDs) when calling in air strikes.
These man-portable devices fire a laser beam at a target causing a reflection that a suitably equipped aircraft or missile sensor can detect. Bouncing such a beam off a target is known as 'painting the target'. LTDs have been used to devastating effect by AFSOC CCTs, Joint Terminal Attack Controllers and other suitably trained SOF in Afghanistan and Iraq.
Laser target designators can be used as a range finding device and so are also used by artillery spotters.
AN/PEQ-1A Ground Laser Target Designator (GLTD) II SOFLAM
The AN/PEQ-1A GLTD II SOFLAM is man portable target designator / rangefinder that is typically mounted on a tripod. By use of a RS422 data link, the GLTD II can be integrated into a other units such as the SeeSPOT III Thermal Imager to create a day/night surveillance and fire control system.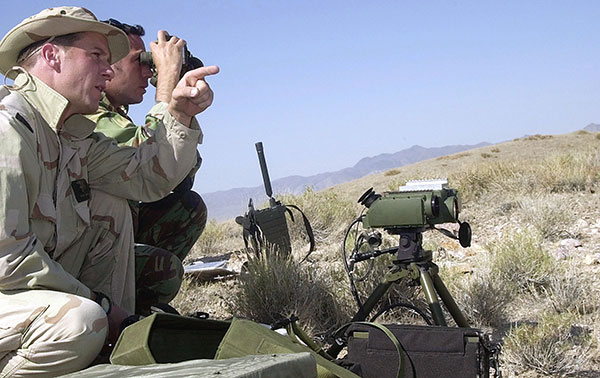 A British Special Forces (SAS) soldier and a U.S. Air Warfare Instructor pictured next to a GLTD II SOFLAM
U.S. Dod photo by SRA Rick Bloom, USAF
AN/PEC-1C Ground Laser Target Designator (GLTD) III SOFLAM
The AN/PEC-1C Special Operations Forces Laser Acquisition Marker (SOFLAM) is a lightweight laser target designator designed for use by Special Operations Forces (SOF). The GTLD II is smaller, lighter and more energy efficient than the GLTD II, reducing the number of batteries needed from 5 to 1.