United States Marine Corps Forces Special Operations Command (MARSOC)
MARSOC is command that covers several United States Marine Corps special operations elements (excluding those remaining Force Recon elements dedicated to USMC ops). MARSOC itself is under the umbrella of SOCOM (Special Operations Command).
MARSOC consists of:
Marine Raider Regiment (MRR)



1 x Headquarters Company

3 x Marine Raider Battalions (MRBs)


The MRBs are MARSOC's combat units. MRB operators are trained in direct action, special reconnaissance, foreign internal defense and unconventional warfare. MRB Marines that have passed throught grueling training pipeline are known as Critical Skills Operators (CSO).

Each MRB contains 4 Marine Special Operations Companies (MSOCs). Each MSOC contains 4 Marine Special Operations Teams (MSOTs) which each comprise 3 4-man Fire Teams plus a Team Leader (Captain), Radio Operator and a Navy Corpsman.

The 1st and 2nd MRBs were initially formed from the corresponding existing 1st and 2nd Force Reconnaissance companies of the Marine Corps. The 3rd MRB was eventually formed from the Marines Special Operations Advisor Group, a previous MARSOC unit, which specialized in foreign internal defence and unconventional warfare operations.



Marine Raider Support Group (MRSG)
MARSOC communications, intelligence, logistics and other support elements
more info: Marine Raider Support Group


Marine Special Operations School (MSOS)
Training and selection for MARSOC.

more info : Critical Skills Operator selection & training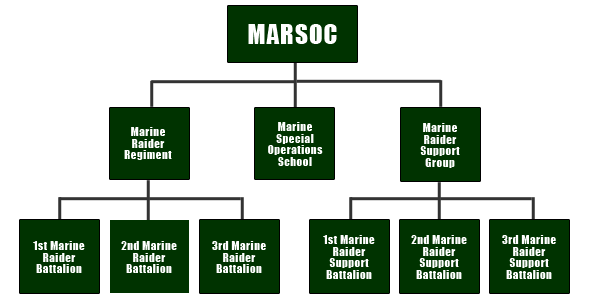 MARSOC organizational chart
Marine Raiders
Note: The Marine Raider Regiment was previously known as the Marine Special Operations Regiment (MSOR). Marine Raider Battalions were known as Marine Special Operations Battalions (MSOBs). The MSOR and its subordinate units were renamed with the 'Marine Raider' moniker in August 2014, in recognition of the World War 2 unit. The Marine Special Operations Support Group (MSOG) and its subordinate units were also redesignated with the Marine Raider label.
MARSOC - Role
Direct Action (DA)
Special Reconnaissance (SR)
Foreign Internal Defense (FID)
Unconventional Warfare (UW)
Counterterrorism (CT)
Information Operations (IO)
Security Force Assistance (SFA)
MARSOC - Notable Operations
2007 - present - Operation Enduring Freedom
2007 - present - Iraq - Operation Iraqi Freedom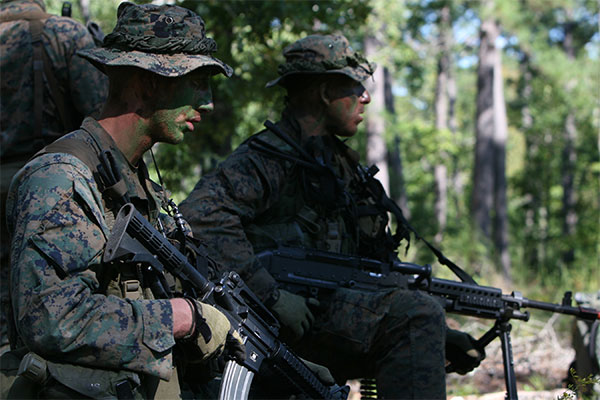 Marines on the MARSOC the Individual Training Course (ITC) pictured on an an exercise.
U.S. DoD photo by Cpl Thomas Provost
---
MARSOC Resources