MH-47 Chinook Helicopters
The MH-47 Chinook family of helicopters are advanced versions of CH-47 Chinooks flown by the US Army. The MH-47E and G Chinooks are the heavy lift component of the 160th Special Operations Aviation Regiment (SOAR).:
MH-47 Roles
160th SOAR Chinooks are used for :
insertion, extraction and re supply of Special Operations Forces
refueling other helicopters, on the ground, in so-called 'fat cow' operations
MH-47is the only US Army helicopter capable of supporting Special Operations in the more mountainous regions of Afghanistan and as such it plays a major role in that theater.
MH-47 - Variants
The 160th SOAR have operated several flavors of MH-47 during its history
MH-47D
An early model, built around the CH-47D airframe brought into service with the Night Stalkers in the mid-eighties. Initially lacking many of the refinements added to later birds, many MH-47Ds have been steadily improved with better engine control systems, refueling probes. All of the 11 MH-47Ds once in the 160th SOAR inventory have now been upgraded to MH-47G standards.
MH-47E
The 'Echo' is similar to the MH-47D but with more powerful engines (T55L-714 vs the D model's T55-L712), enhanced management software, improved fuel capacity via integral fuel tanks and more advanced defensive avionics. The E model helicopters have been in service with the 160th SOAR since 1993. An upgrade program is underway that is steadily remanufacturing the MH-47E to MH-47G standards.
MH-47G
Based around the CH-47F, the 'Golf' is the newest and most advanced MH-47. It features a number of improvements of previous models such as:
Honeywell T55-GA-14A-714 engines
Common Avionics Architecture System (CAAS)
a suite of integrated digital mission management systems including LCD screens, communication devices, moving map displays and data processing systems. THe MH-47G has the ability to integrate data from external sensors, allowing it to 'see' over the horizon and make in-flight mission changes as appropriate
improved missile warning receiver
improved data modem
MH-47 - Equipment
A host of special gear, tailored to special operations, is carried by the MH-47.
MH-47 Avionics
FLIR
A foward-looking infrared camera mounting in a bubble under the helicopter's chin enables the pilots to fly low level, at night and in marginal weather
multi-mode radar
the MH-47's radar features terrain-following, terrain-avoidance and weather detection modes
secure radio communications
defensive systems
infrared jammers, radar warning receivers and jammers, chaff and flare dispensers
personnel location system (PLS)
a radio homing system that is used to locate downed pilots via compatible emergency beacons

MH-47 Armaments
MH-47s are armed with M134 7.62mm electrically-operated, air-cooled gatling guns, fitted in firing the left port/ right cabin door behind the cockpit. E/G models also have M240 7.62mm belt-fed machine guns fitted to windows towards the rear.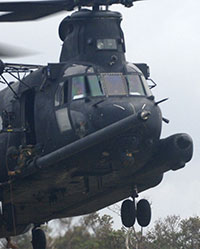 The MH-47 features a refueling probe, FLIR pod and terrain-following radar.
U.S. Air Force photo by Airman Matthew R. Loken
Extraction / Insertion Gear
Fast Rope Insertion Extraction System (FRIES)
a set of rigs that allow for thick woolen ropes to be attached to the cabin to allow for operators to 'fast rope' down from the helicopter.
Special Patrol Insertion & Extraction System (SPIES)
Used for extracting personnel from the ground, a single rope is attached to the helicopter and lowered down. A series of rings on the rope allow operators on the ground, all wearing special harnesses, to clip onto the rope. Up to 8 fully-laden troops can be lifted off the ground and carried away using this method
Rope ladder
typically deployed through the belly hatch
Rescue hoist
electrically-powered hoist for lifting men in a harness or a litter
MH-47 - Crew
The MH-47s are typically crewed by 5 Night Stalkers:
Pilot
Co-pilot
3 x crewchiefs/aerial gunners
MH-47 (MH-47G) Specifications
Crew
Pilot, Co-pilot + 3 crew chiefs/gunners
Engines
2xTextron Lycoming T55-4-714 Turboshaft engines
Dimensions
L - 15.87m
W (rotor diameter) - 18.82m
H - 5.59m
Weights
12,210 kg (empty)
24,494 kg (max loadout)
Max Speed
259 kph
Range
1382 km
Armament
4 gun stations (port/starboard front and rear) :
2x m134 7.62mm miniguns (front)
2 xM240D 7.62mm machine gun (rear)
Avionics
Common Avionics Architecture System (CAAS)
Mission Management Software
Multi-mode radar
Hughes AN/AAQ-16 FLIR in chin turret
Digital moving map display
Aircraft Survivability Equipment Control
BM-AlliedSignal integrated avionics with four-screen NVG compatible EFIS
dual MIL-STD-1553 digital databusses
AN/ASN-145 AHRS; jamming-resistant radios
Rockwell Collins CP1516-ASQ automatic target hand-off system
inertial AN/ASN-137 Doppler,
Rockwell Collins AN/ASN-149(V)2 GPS receiver
Rockwell Collins ADF-149
Perkin-Elmer AN/AVR-2 laser
E-Systems AN/APR-39A laser warning receiver
Honeywell AN/AAR-47 missile warning systems
ITT AN/ALQ-136(V) pulse jammer and
Northrop Grumman AN/ALQ-162 CW jammer
Tracor M-130 chaff/flare dispensers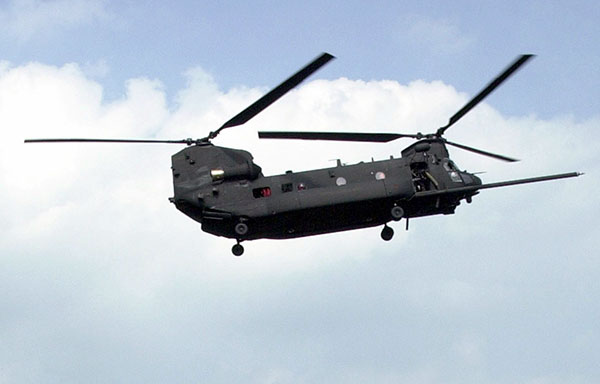 A MH-47E flown by the 160th SOAR
US Dod photo: MSGT Chris Dries, USAF
MH-47 Resources