MH-60M Black Hawk Helicopter
The MH-60M Black Hawk helicopter is a highly specialised variant of the Sikorsky S-60. They are flown exclusively by the US Army's 160th Special Operations Aviation Regiment (SOAR).
The Night Stalkers fly the MH-60 'Mike' in 2 main roles: medium assault and medium attack (MH-60M DAP). MH-60Ms may also act as command and control (C2) platforms.
---
MH-60M Medium Assault Helicopter
As an assault platform, the MH-60M is use to insert and extract special operations forces (SOF). For this role, it is equipped with several pieces of equipment:
Fast Rope
a set of rigs that allow for thick woolen ropes to be attached to the cabin to allow for operators to 'fast rope' down from the helicopter.


Special Patrol Insertion & Extraction System (SPIES)
Used for extracting personnel from the ground, a single rope is attached to the helicopter and lowered down. A series of rings on the rope allow operators on the ground, all wearing special harnesses, to clip onto the rope. Up to 8 fully-laden troops can be lifted off the ground and carried away using this method.
note: combined fast-rope and SPIES is sometimes referred to as Fast-Rope Insertion Extraction System (FRIES).


Rescue hoist
An electrically-operated hoist is fitted over the MH-60M's right-side cabin doorway which can be used to winch personnel up into the helicopter from the ground or from the water.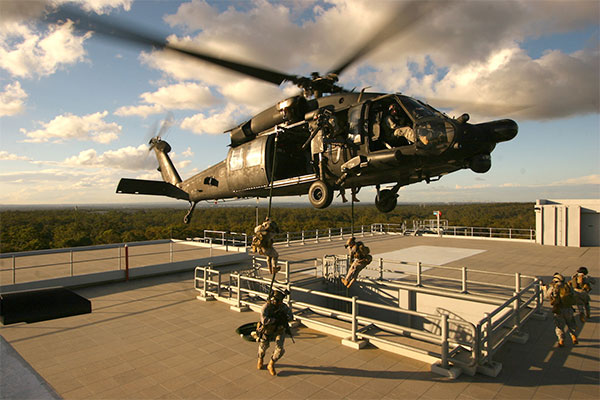 A MH-60M hovers while US SOF personnel fast-rope onto the roof of a building. The MH-60M can transport up to 9 combat-equipped troops. Note the M134 7.62mm minigun visible in this shot. There is one of these miniguns mounted on each side of the helicopter, in a window forward of the cabin doorway.
photo: US Army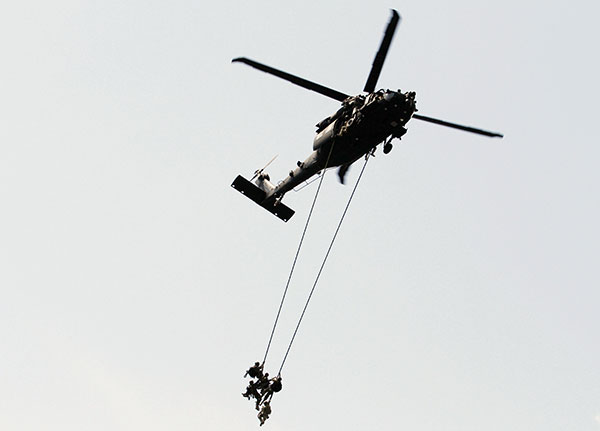 Green Berets with the 7th Special Forces Group are extracted via Special Patrol Insertion & Extraction System (SPIES).
DOD photo by Army Capt. Daisy C. Bueno, Special Operations Command South
Medium assault MH-60Ms can also be used in a resupply role. Aside from internally-carried stores, the MH-60M can carry up to 9,000 lbs of stores as an underslung load. Other roles include search and rescue and casualty evacuation.
---
MH-60M Defensive Air Penetrator
The MH-60M DAP is flown in the medium attack helicopter role. Instead of carrying troops, the DAP is equipped with an array of weaponry so that it can perform armed escort and close air support missions.
The DAP is fitted with the Light Armament Support Structure (LASS) - a set of stub wings with hardpoints for mounting various weapon systems. The weapons that can be carried by the MH-60M DAP are:
2 x M134 miniguns, in a fixed forward-facing fitment
Up to 2 M230 30mm chain guns - the same gun as found on the AH-64 Apache gunship
Up to 4 M261 FFAR 2.75" 19-rocket pods - which can fire high explosive, smoke or anti-personnel fletchette rounds
Up to 16 AGM-114 Hellfire laser-guided missiles via M299 launcher.
AIM-92 ATAS (Air To Air Stinger)
GAU 19/A .50 cal 3-barrelled gatling gun (rarely, if ever, fitted)
A monocular head-up display (MONOHUD) provides weapon aiming cues for the pilots.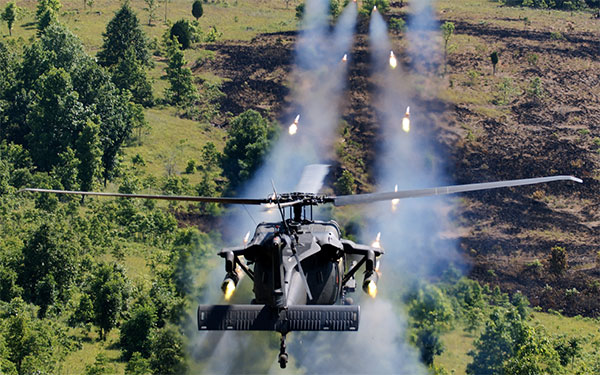 A MH-60M Defensive Armed Penetrator (DAP) fires a salvo of 2.75inch rockets at a U.S. Army testing ground.
photo: US Army
---
MH-60M Design Features
The MH-60M is powered by 2 YT706-GE-700 engines connected to a main rotor head consisting of 4 wide chord blades. The aircraft features a 3-blade tail rotor and a main rotor brake. The engines feature full authority digital engine control (FADEC).
Electrical power is provided by 2 60kVa main generators and a 35 kVA APU generator.
Airframe stability has been improved via Vibration Management Enhancement Program (VEMP) and active vibration control system.
The aircraft sports an extending aerial refueling probe that allows it to take on fuel mid-air from compatible tankers such as the MC-130W Combat Spear. Internal 185/200 gallon auxiliary tanks are also fitted. 2 x 230 gallon fuel tanks may be carried via the external tank system (ETS) - a set of upswept stub wings attached to the helicopter's fuselage.
Cockpit
The flight deck features a digital glass cockpit configured to Common Avionics Architecture System (CAAS) specification. The CAAS is a set of avionics common to the MH-60M Black Hawk and MH-47G Chinook helicopters.
The night-vision-compatible-cockpit features 4 6-by-8-inch full-color multifunction liquid crystal displays (LCD) that show aircraft flight data, mission data, health data and sensor data. This data includes a moving map display, an Engine Indication and Crew Alert System (EICAS), advanced hover and landing cueing, electro-optical video display and forward-looking infrared (FLIR) video display. A CDU-7000 control display unit enables the management of the helicopter's radio, navigation and flight plan information via a full alphanumeric keyboard.
Sensors
AN/APQ-187 SilentKnight Multimode Radar
housed in the nose, this radar includes terrain-following (TF) and terrain-avoiding (TA) capabilities.

AN/ZSQ-2 EOSS - a sensors package positioned in a turret under the MH-60M's chin that houses electro-optical (EO) and infrared (FLIR) cameras. The ZSQ-2 EOSS comes in 2 versions - v1 for assault operations and v2 for attack (MH-60M DAP). The v2 package includes a laser target designator for the DAP's Hellfire missiles.

Threat Detection & Defensive Countermeasures
AN/ALQ-144 Infrared Jammer
AN/AVR-2 Laser Detecting Set
ALQ-211 (v6/v7) Radar Warning Receiver
M230 chaff / flare dispensers
Communications & Identification Systems
AN/ARC-201D Single channel ground and airborne radio system (SINCGARS)
Digital Intercom System
AN/ARC-220 High Frequency Radio
4x AN/ARC-231 (UHF, VHF) including 2 with satcom capability
MTX Blue Force Tracker
AN/APX-118 IFF Transponder
---
MH-60M Specifications
Crew
4 - Pilot, Copilot & 2 crew chiefs/ door gunners
Engines
2 Two General Electric YT706-GE-700 engines
Dimensions
L (fuselage) - 15.2 m
L (rotorspan) - 16.35 m
W (rotorspan) - 14.1 m
H - 5.13 m
Max Gross Weight
24,500 lbs
External Load Max
9,000 lbs
Max Speed
150 knots +
Cruise Speed
140 knots
Armament
MH-60M (medium assault)
M134 7.62mm miniguns

MH-60M DAP (medium attack)
M230 30mm cannon (1100 rounds) @ 625 rounds per minute
M261 FFAR 2.75" 19-rocket pods.
AGM-114 Hellfire anti-tank missiles
GAU 19/A .50 gatling gun
M134 7.62mm miniguns (fixed aim)
AIM-92 ATAS (air-to-air Stinger)
---