MV Morning Glory
On March 16th 2014, US Navy SEALs boarded and took control of an oil tanker in international waters southwest of Cyprus. The operation was carried out at the behest of the Libyan government.
The tanker, MV Morning Glory, was an Egyptian-owned vessel running under a temporary North Korean flag. It had had taken on oil at As Sider, a port held by a rebel faction. The rebels, who have taken over areas in the east of the country, have been calling for a greater share in Libya's oil wealth, and greater autonomy. Armed rebel militia barred the MV Morning Glory and it took to sea, presumably heading to a foreign port to sell the oil, which legally belonged to the National Oil Company, a company owned by the Libyan Central government. Libyan Naval forces attempted to catch the vessel but it managed to give them the slip. The fallout from the failed blockade resulted in the Prime minister being forced out of office and having to flee the country.

As Sidr, Libya (google earth kmz file)
It was down to the US Navy to track and intercept the ship and it's stolen cargo. On the night of March 16th, SEALs launched an operation from the guided missile destroyer, USS Roosevelt. Supervised by a C&C element aboard the Roosevelt, The SEALs used fast boats (RHIBs) and helicopters to board the MV Morning Glory in a textbook fast-rope / hook and climb VBSS operation. Once aboard the tanker, the SEALs swiftly took control, secured its crew and disarmed the 3 militia men on board. No shots were fired and no personnel were injured during the operation.
The MV Morning Glory, piloted by a US Navy crew, was delivered to the Libyan port of Zawiya on March 22nd.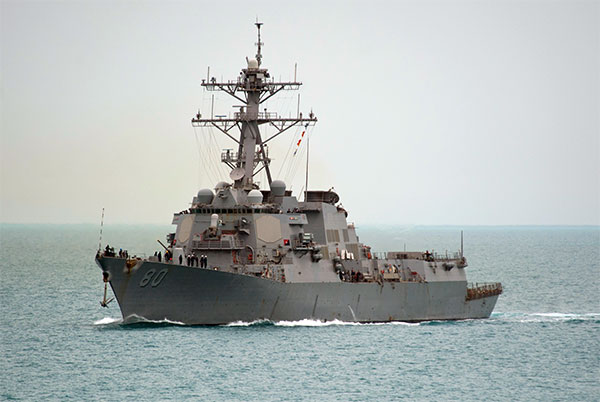 The SEAL operations was launched from the Arleigh Burke-class guided-missile destroyer USS Roosevelt. The warship supports 2 MH-60R Seahawk LAMPS III helicopters and 2 24-foot rigid hull inflatable boats (RHIBS) - items used to deliver the SEAL boarding parties onto the MV Morning Glory.
U.S. Navy photo by Mass Communication Specialist 2nd Class Carlos M. Vazquez II/Released