USCG Maritime Security Response Team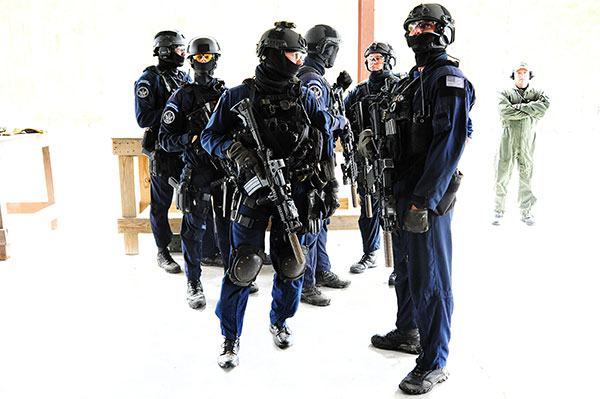 image sourced from public domain | U.S. Coast Guard photo by Petty Officer 2nd Class Patrick Kelley
Photo showing a a USCG Maritime Security Response Team (MSRT).
Note the amount of tactical gear the MSRT is equipped with.
This gear includes nomex fire-retardent flgiht suits, kevlar vests, assault webbing, knee pads, helmet with balistic protection, eye protection, gloves and balaclavas.
Typical weapons include M4 / CQBR carbines and Colt 1911 pistols.
Maritime Security Response Teams are a U.S. Coast Guard Deployable Specialized Force (DSF) and are part of the Deployable Operations Group.
MSRTs are a maritime counterterrorism unit that are trained to deal with terrorist attacks against vessels and maritime facilities.
They are on a a proactive, first response posture.