PACTACLET Precision Marksman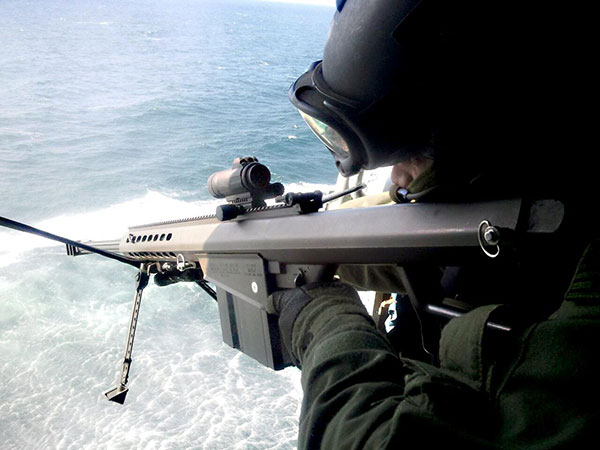 image sourced from public domain | USCG Photo
A precision marksman with Pacific Tactical Law Enforcement Team (PACTACLET) takes aim with a Barrett .50 cal anti-material rifle from the cabin of a helicopter.
Note the red dot sight fitted atop the Barrett.
Unlike when employed as a sniper rifle, when being used in the maritime interdiction role the Barrett is configured for short to medium range engagements.
In the event of having to stop a go-fast boat, the precision marksman will fire warning shots and then, if the vessel still fails to stop, they will disable its engine with a carefully aimed shot.
Pacific Tactical Law Enforcement Team is based at Marine Corps Recruit Depot San Diego.
PACTACLET fields 8 eight different Law Enforcement Detachments (LETDETs) which deploy aboard U.S. and allied naval vessels in order to carry out maritime security and law enforcement operations.