Marine Special Operations Team (MSOT) - Combat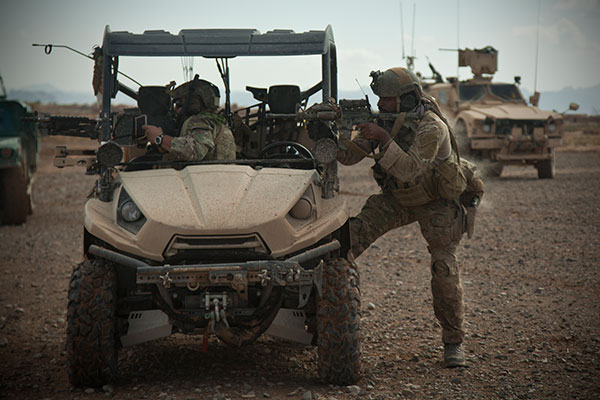 image sourced from public domain | U.S.M. C. photo by SGT. Pete Thibodeau/Released
Marines with a Marine Special Operations Team (MSOT) engage Taliban forces from inside/behind a Kawasaki LTATV-2 vehicle while on patrol with Afghan Police in Farah province, Afghanistan, December 2012.
MSOTs are made up of around 15 Critical Skills Operators (CSOs) (MOS 0372), organized into 3 4-man fire teams plus a Team Leader (Captain), Radio Operator and a Special Amphibious Reconnaissance Corpsman.
MSOTs are part of Marine Special Operations Battalions, which are a component of MARSOC.
MSOTs have been working in concert with Afghani forces as part of Special Operations Task Force West's counter insurgency (COIN) campaign.