Navy SEALs - Fire Team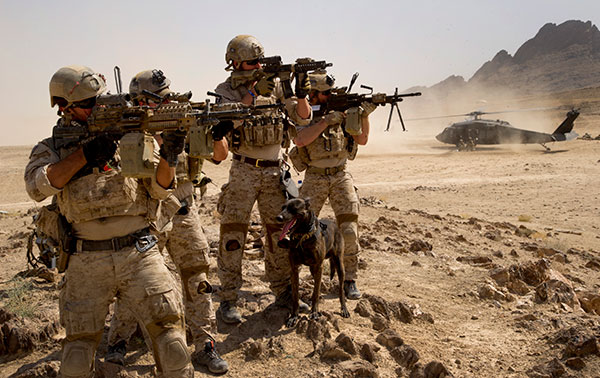 image sourced from public domain | U.S. DoD photo by Petty Officer 1st Class Martine Cuaron
Navy SEALs, assigned to Combined Joint Special Operations Task Force - Afghanistan provide security as a U.S. Army UH-60 Black Hawk drops off personnel during a clearing operation in Shah Wali Kot district, Kandahar province, Afghanistan.
Note the firepower present in this 4-man fire team.
Several are armed with a MK 48 Mod 0 machine gun.
The Mk 48 is an off-shoot of the Mk 46 that has been chambered in 7.62mm x 51mm NATO and developed for special operations use.
The MK 48 Mod 0 is fielded throughout SOCOM.