Force Recon Platoon | SAW Gunner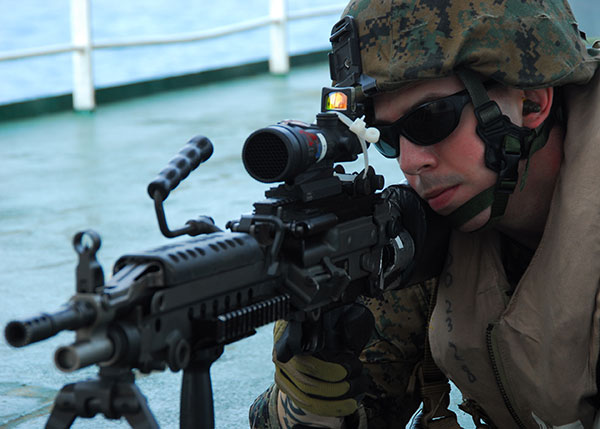 image sourced from public domain | U.S. Navy photo by Mass Communication Specialist 2nd Class Eva-Marie Ramsaran/Released
A Force Recon operator with the 31st MEU's Force Recon Platoon looks through the scope of a M249 Para Squad Automatic Weapon (SAW) during a Visit Board Search and Seizure (VBSS) exercise, 2011.
The M249 is a 5.56mm x 45mm belt-fed machine gun that is common throughout the Marine Corps and the rest of the U.S. military.
The Para is a compact variant of the weapon, taking its name from it being designed for airborne forces.
Small teams such as a 6-man Force Recon team will typically include at least one SAW gunner in order to be able to lay down covering fire during a break from contact.
Force Recon Platoons attach to their assigned Marine Expeditionary Unit (MEU)'s Command Element and perform deep reconnaissance and direct action missions, such as maritime interdiction operations, including VBSS.