Force Recon Platoon | 31st Marine Expeditionary Unit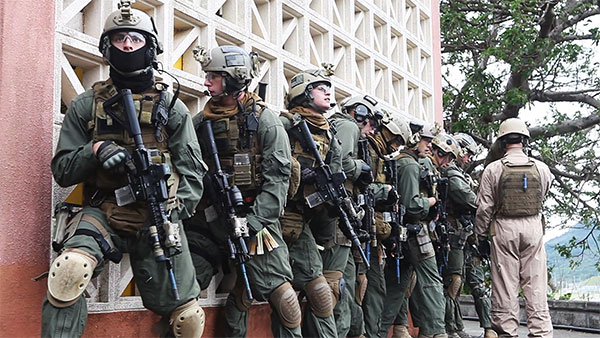 image sourced from public domain | U.S. DoD Photo By: Cpl. Jonathan G. Wright
The 31st MEU's Force Recon Platoon with the 31st Marine Expeditionary Unit (MEU)'s Maritime Raid Force (MRF) stack up in preparation to make an explosive breech into a target building during a MRF training exercise held by the Special Operations Training Group, III Marine Expeditionary Force.
The 31st MEU Maritime Raid Force is comprised of a number of elements, all drawn from within the MEU, and is configured as a special operations capable force that can carry out maritime interdiction operations (MIO), including counter-piracy missions, and kill/capture operations against pirate/terrorist targets on land.
The 31st MEU MRF consists of an assault element made up of the Force Recon Platoon, a reconnaissance element made up of the Amphibious Recon Platoon (Division Recon), a security element drawn from the Battalion Landing Team 1st Battalion, 5th Marine Regiment and a HQ element.