MRZR-4 Light Tactical All Terrain Vehicle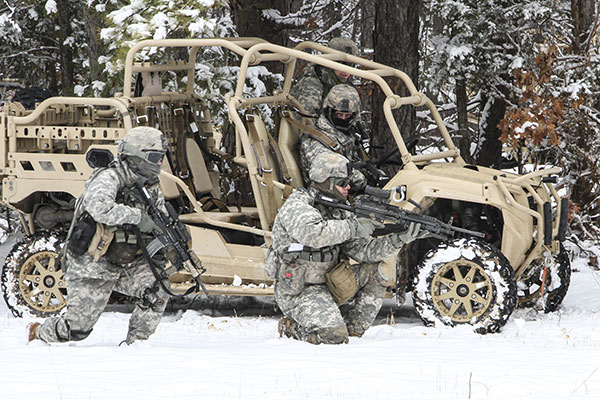 image sourced from public domain | U.S. Army photo
Photo showing a Light Tactical All Terrain Vehicle (LTATV) operated by paratroopers assigned to the 1st Battalion, 325th Airborne Infantry Regiment, 2nd Brigade Combat Team, 82nd Airborne Division.
The MRZR LATV is a 4-seat military version of the Polaris RZR-4.
It is in use with U.S. Army airborne forces and Special Operations Command (SOCOM).
The militarized MRZR-4 feaures a 4-strole twin-cylinder 88 horsepower engine, with a top speed of 60 mph.
It has a payload capacity of 1500 pounds.
A configurable rear bay can be setup to carry stores, casualties in a litter or additonal passengers in 2 rear-facing seats.
LTATVs come with power steering and infrared (IR) lights.
The MZR-4 is designed to be air-transportable in CH-47 helicopters and CV-22 tilt-rotor aircraft.
The vehicle's roll-cage can be collapsed without the use of tools, enabling transport in the CV-22.
Lashing points are built into the frame to enable the LTATV to be secured inside a helicopter's cabin.
US Special Operations Forces (SOF) also use 2-seat LTAVs made by Polaris and Kawasaki.