Special Forces Training
Once assigned to a position within a Special Forces Group, Green Berets continue to train in order to sustain their specialized skills and aquire new ones. Some of the training that is carried out includes:
Tactical Combat Casualty Care (TCCC)
Special Operations Terminal Attack Controller Course (SOTACC)
Static Line Jumpmaster Course
Advanced Special Operations Techniques (ASOT)
Multipurspose Canine Handlers Course
Intermediate Language Training
Advanced Language Training
Special Forces Combat Diving Supervisor Course (CDSC)
Special Forces Combat Diving Medical Technician (CDMT)
Military Free Fall Jumpmaster Course (MFFJM)
Military Free Fall Instructor Course (MFFIC)
Special Forces Intelligence Sergeant Course (SFISC)
Advanced Special Operations Techniques (ASOT) course
Advanced Special Operations Managers Course (ASOMC)
Special Forces Technical Surveillance (SFTSC)
Special Operations Analytics and Intelligence Course (build phase) (SOAIC)
Special Forces Network Development Course (NDC)
Unconventional Warfare Operational Design Course (UWODC)
SOF Digital Targeting Training (STTE)
SOF Sensitive Site Exploitation, Technical Exploitation Course (SOFSSE)
SOF Sensitive Site Exploitation Operator Advanced Course (OAC)
Special Forces Physical Surveillance Course (build phase)
Special Forces Sniper Course (SFSC)(formerly SOITC)
Special Forces Master Mountaineering Course (Level-1)
Special Forces Training : Photos & More Info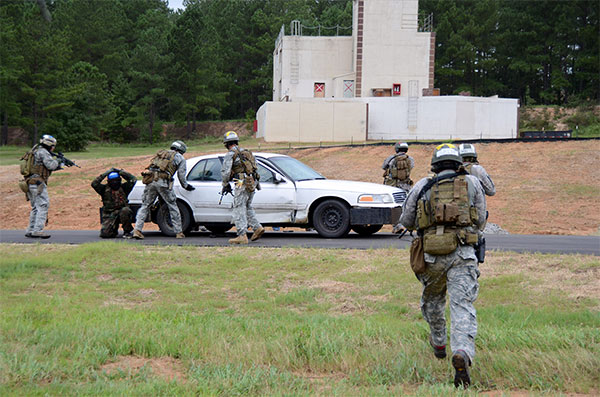 Special Forces soldiers interdict a vehicle during Special Forces Advanced Reconnaissance, Target Analysis, and Exploitation Techniques Course (SFARTAETC). The SFARTAETC program is an advanced direct action / counter terrorism training program designed for members of a Special Forces CIF Company.
more info :
SFARTAETC
Photo by Sgt. Justin P. Morelli / Released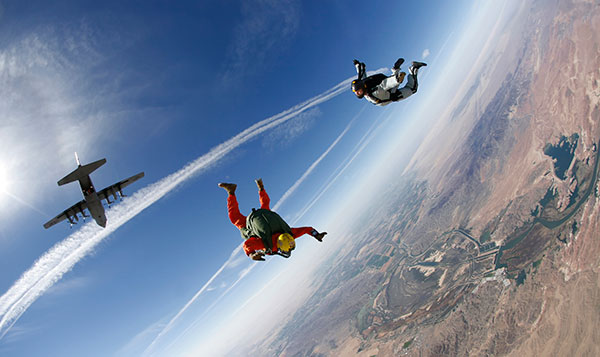 Special Forces students on the Military Free-fall Parachutist Course (MFFPC) conduct high altitude low opening (HALO) parachute training. All members of a HALO Team (a SFODA that specializes in military free-fall ops) will take the MFFPC.
more info :
Military Free-Fall Parachutist Course
US Army Photo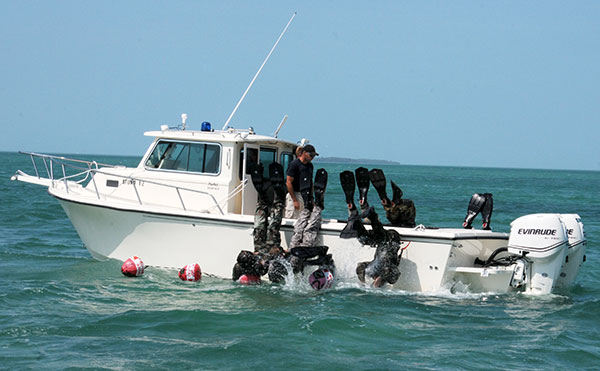 Students on the Special Forces Combat Diver Qualification Course (SFCDQC) enter the water for a 3,000-meter open water swim. The SFCDQC is a 7-week course run at NAS Key West, Florida. One Special Forces Operational Detachment Alpha (SFODA) in each Special Forces company is a designated SCUBA team in which all 12 Green Berets are qualified Combat Divers. The SFCDQC teaches Green Berets assigned to a Combat Diver position in a range of waterborne infiltration techniques, including SCUBA, the use of Zodiac inflatables and Kayaks, and helocasting.
more info :
Special Forces Combat Diver Qualification Course
US Army Photo by Maj. Dave Butler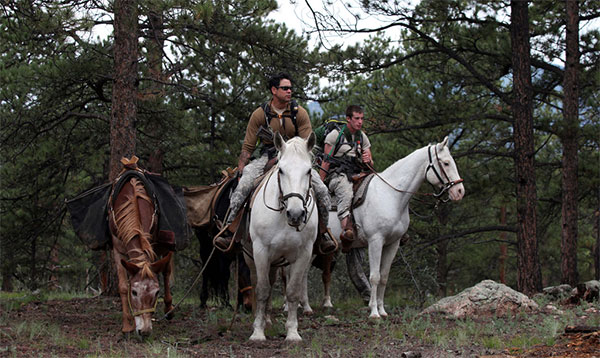 Green Berets attenfing the U.S. Army John F. Kennedy Special Warfare Center and School Mountaineering Program conduct Senior Course Level II training. The course includes basic animal care of pack animals and procedures on properly loading and securing heavy equipment and weapons onto mules.
more info :
Special Forces Senior Mountaineering Course (Level-2)
U.S. DoD Photo