USMC - M14 Designated Marksman Rifle (DMR)
Based around the vintage M14 design, the Designated Marksman Rifle (DMR) is a 7.62mm x 51mm semi-automatic sniper rifle in service with the United States Marine Corps (USMC). As the name indicates, the DMR is designed for the Designated Marksman Role i.e. a medium-range sniper capability integrated at the squad level.
A number of modifications and enhancements have been made to the M14 design to produce the DMR :
McMillan Tactical M2A fiberglass stock which features an adjustable saddle cheekpiece
Pistol grip
22 inch, match-grade, stainless steel barrel
Picatinny rail for the mounting of various scopes. Typical scopes fitted on DMRs include Leupold Mark 4 day scopes and AN/PVS-10 or AN/PVS-17 night vision devices.
Harris S-L folding bipod
The USMC is in the process of gradually replacing the DMR with the M39 EMR
M14 DMR Specifications
| | |
| --- | --- |
| weight: | 11 lbs (empty, no scope, bipod or suppressor) |
| length: | 44 inches |
| barrel length: | 22 inches |
| rate of fire : | semi-automatic |
| muzzle velocity : | 2,837 feet per second |
| caliber : | 7.62mm x 51mm NATO |
| magazine : | 20 round box magazine |
M14 DMR - Images and Further Info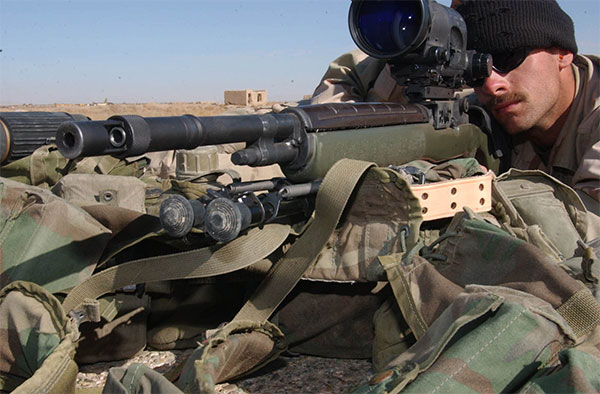 A USMC Force Recon sniper looks through the scope of a DMR. Note the Harris S-L bipod folding up beneath the weapon.
US Navy photo by Sgt. Andrew D. Pomykal. (RELEASED)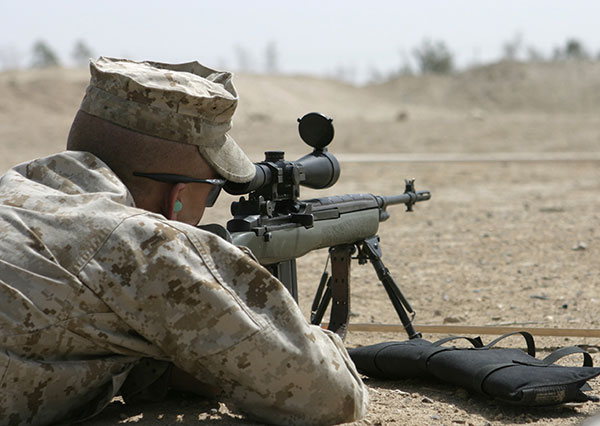 A member of the 2nd Fleet Anti-Terrorism Security Team Company, Marine Corps Security Force Battalion takes aim with a DMR, bipod extended.
US DoD photo by Cpl. Mike Escobar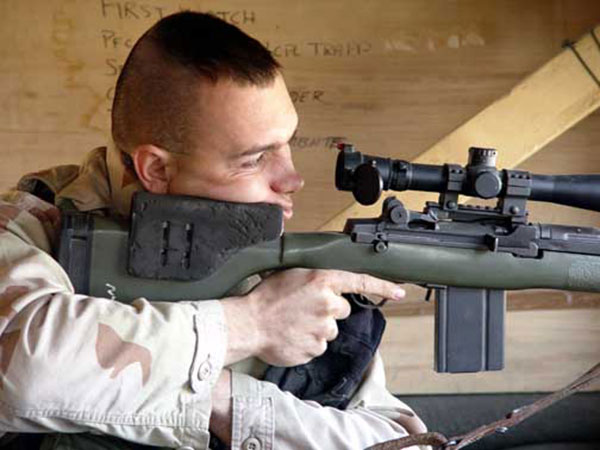 A Marine peers down the scope of a DMR. This shot highlights the adjustable saddle cheekpiece.
US DoD Photo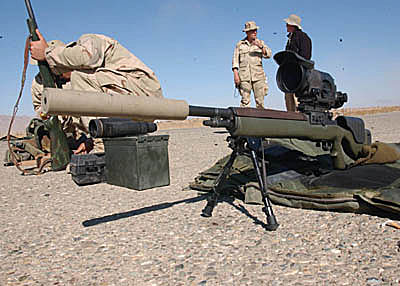 A DMR configured for night ops - fitted with a OPS, Inc. suppressor and a AN/PVS-10 night sight
US DoD Photo