M1014 Shotgun
The M1014 is a variant of the Benelli M4 Super 90 Combat Shotgun and has been adopted by the US military.
The M1014 can be found in the armory of Special Operations Forces (SOF), regular forces and tactical teams such as the USMC Special Reaction Team.
The M1014 is a semi-automatic, 12-gauge shotgun which can fire a range of rounds including 00 Buck, bird shot, rifled slugs, M1030 breaching rounds, non-lethal rubber pellets and CS rounds.
The shotgun features a Picatinny rail for the mounting of various accessories such as scopes and laser aiming devices.
M1014 Specifications
| | |
| --- | --- |
| weight : | 8.42 lb (empty) |
| length : | 34.9 inches |
| barrel length : | 18.5 inches |
| rate of fire : | single-fire |
| effective range : | 36.5 meters |
| caliber : | 12 gauge |
| magazine : | 8 + 1 internal tube magazine |
M1014 - Images and Further Info

M1014 Tactical Shotgun. Some variants of the M4 Super 90 / M1014 feature a collapsable buttstock.
US DoD Photo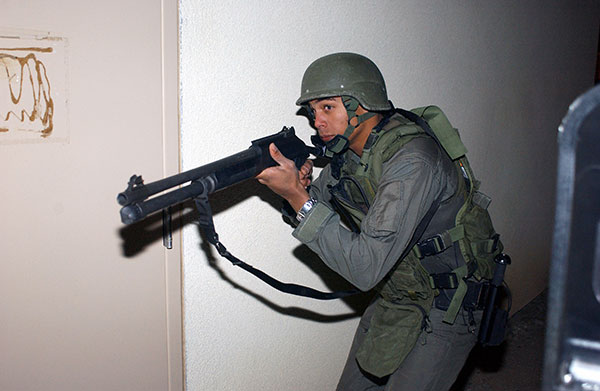 A member of the US Marines
Special Reaction Team
(SRT), armed with a M1014. Tactical teams may use special door breaching rounds, such as the M1030, which fires a wax projectile, designed to blow the hinges away from a door without risking killing anyone on the other side. The M1014 can also fire Ferret CS rounds which contain tear gas.
US DoD photo by LCPL CHRISTOPHER RYE, USMC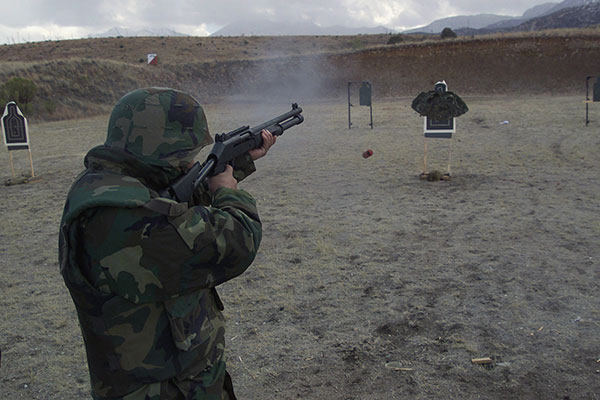 A US Marine fires the M1014 shotgun at a range. The M1014 uses a ghost-ring sight.
US DoD photo by LCPL KEITH UNDERWOOD, USMC