M32 Multi-Shot Grenade Launcher (MGL)
The M32 MGL is a hand-held 6-shot grenade launcher in use with SOCOM and the US Marine Corps. Ideal for special operations forces, the M32 MGL can lay down a high volume of fire - all 6 rounds can be fired in 3 seconds.
The M32 MGL can fire all of the low-velocity 40mm grenades in use with the US military, including:
M406 High-Explosive round (H-E)
for use against point and area targets - kill zone of 5 meters and a casualty-zone of 15.
M433 High-Explosive Dual Purpose (HEDP)
able to engage lightly-armored, point and area targets
M576 Buckshot
firing 20 pellets of buckshot
M670 Smoke Canopy
designed to create a smoke screen at the point fo impace
M585 White Star Cluster
flare grenade for signalling or illumination
M651 Tactical CS Grenade
a tear gas grenade used in riot control
XM1060 40mm Thermobaric Grenade
fuel-air explosive weapon which is devestating when fired into structures
HUNTIR
High-altitude Unit Navigated Tactical ImagingRound, a round with a parachute and a IR CMOS Camera that beams back up to 7 minutes of video to a receiver on the ground.
M32 Features
The M32 has the following design features
stainless steel barrel with progressive rifling
4-rail Picatinny rail system around barrel
collapsable modular buttstock
reflex sight
M32 Specifications
weight :
3 lbs (unloaded)

length :
28 inches (stock collapsed)
32 inches (stock extended)

barrel length :
12 inches
rate of fire :
6 rounds in 3 seconds
muzzle velocity :
250 feet per second
effective range :
375 meters
caliber :
40x46mm (low velocity)
M32 - Images and Further Info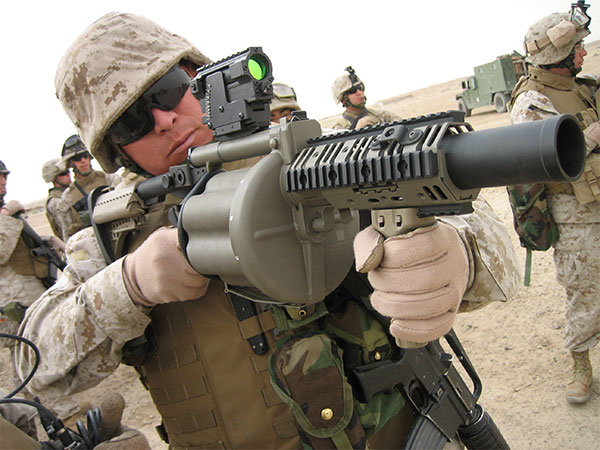 A US Marine takes aim with a M32 grenade launcher. The launcher features a quad Picatinny rail system that can accept all standard accessories such as grips and illumination devices.
US DoD photo by Gunnery Sgt. Mark Oliva, 1st Marine Division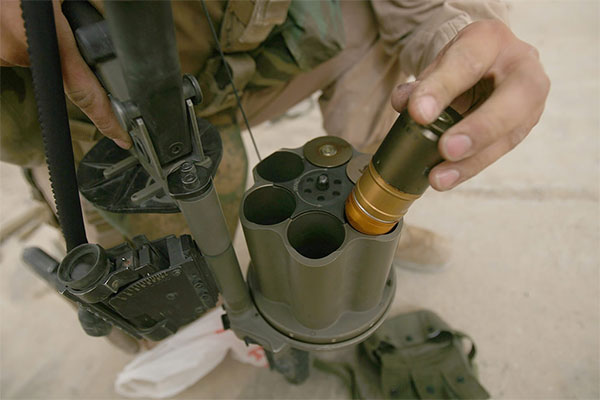 Photo showing a grenade being loaded into the M32's 6-round chamber. A mix of grenades can be loaded. Once loaded, a specific round can be selected for firing without the need to break open the chamber.
US DoD photo by Gunnery Sgt. Mark Oliva, 1st Marine Division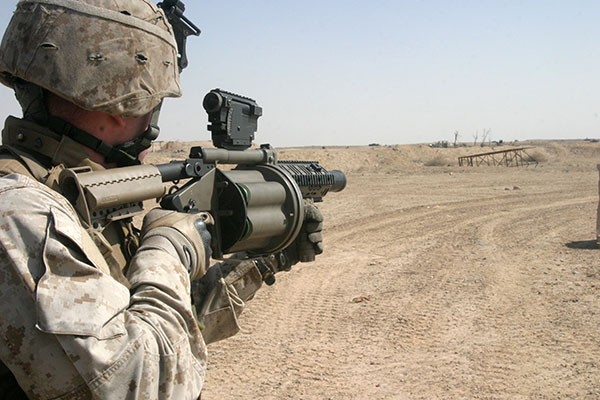 A US Marine checks the fall of a shot from his M32 MGL. Note the reflex sight mounted on the weapon. The sight compensates for the natural drift of the grenades fired from the M32 and can be used at night.
U.S. Marine Corps photo by Cpl Samuel D. Corum