M45 MEU(SOC) Pistol
The MEU(SOC) pistol is a modified 1911 .45 ACP pistol developed for USMC special operations units such as Force Recon and MARSOC. USMC Force Recon units have been using the pistol since 1985. It is officially designated as the M45 MEU(SOC).
The Marine Corps' Precision Weapons Shop (PWS) in Quantico, Virginia made the following modifications to the standard Colt 1991:
ambidextrous thumb safeties
after-market grip safeties
Videcki light triggers
rounded hammer
accurized match-grade barrels
Pachmayr rubber grips
front cocking-serrations
Wilson Combat stainless steel magazines
M45 CQBP
In summer 2012 it was announced that the Marine Corps would be purchasing up to 12,000 new variants of the M45 MEU(SOC) from Colt Defense LLC, to be designated as the M45 Close Quarter Battle Pistol (CQBP). Features of the M45 CQBP include:
dual recoil system
80 firing pin safety
lanyard loop
tritium night sight
cerakote ceramic coating
stainless steel internal parts
M1913 Picatinny rail under the barrel for mounting accessories

M45 MEU(SOC) Pistol Specifications
| | |
| --- | --- |
| weight: | 2.43 lbs (empty) |
| length: | 8.25 inches |
| barrel length: | 5.03 inches |
| rate of fire : | semi-automatic |
| muzzle velocity : | 830 feet per second |
| caliber : | .45 ACP |
| magazine : | 7 round detachable |
M45 MEU(SOC) Pistol - Images and Further Info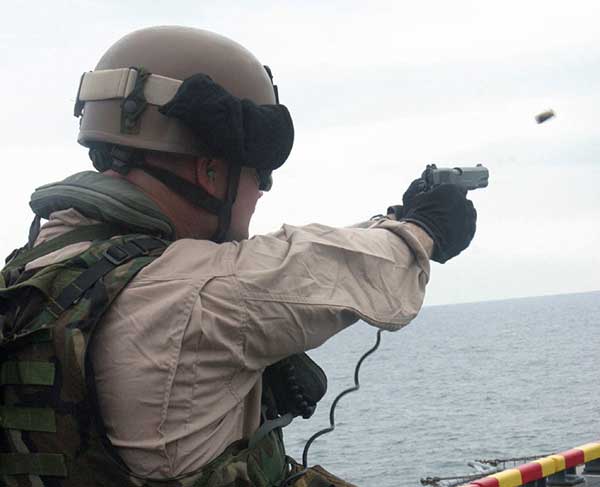 A member of a
Force Recon
Deep Reconnaissance Platoon fires his M45 MEU(SOC) pistol.
US DoD photo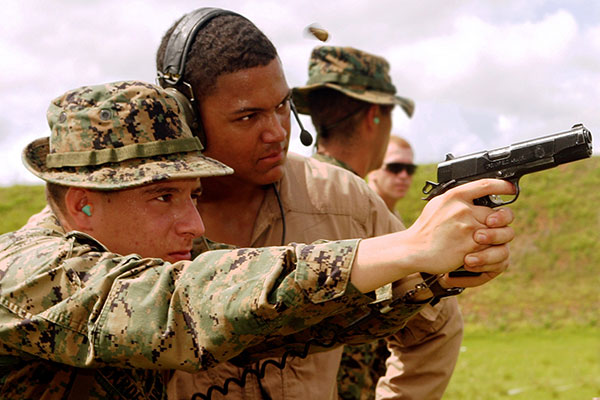 A US Marine fires a M45 MEU(SOC) pistol under the instruction of a member of a Deep Reconnaissance Platoon team leader.
US DoD photo