MK 13 Mod 0 Grenade Launcher
The MK 13 Mod 0 is a single shot manual pump action grenade launcher that fires 40mm grenades. It is an integral part of the SCAR weapon system that has been selected by SOCOM to replace a number of existing systems, including the M203 grenade launcher. The MK 13 Mod 0 can be fitted to either the MK 16 or MK 17 rifles, using separate mountings, or configured as a stand alone launcher.
The MK 13 Mod 0 can fire the same selection of 40 mm grenades as the M203:
M406 High-Explosive round (H-E)

M433 High-Explosive Dual Purpose (HEDP)

M576 Buckshot

M670 Smoke Canopy

M585 White Star Cluster

M651 Tactical CS Grenade


The MK13 features a rotating breach loading action that allows for longer ammunition than the M203. It is also designed to be strong enough to fire the new medium velocity of grenades that are being developed.
MK 13 Mod 0 Specifications
weight :
2.96lbs (unloaded - MK16)
3 lbs (unloaded - MK 17)
5.92 lbs (unloaded - stand alone launcher)
barrel length :
9.6 inches
rate of fire :
5-7 rounds per minute
effective range :
300 meters (low velocity grenade)
600 meters (medium velocity grenade)
caliber :
40x46mm NATO
MK 13 Mod 0 - Images and Further Info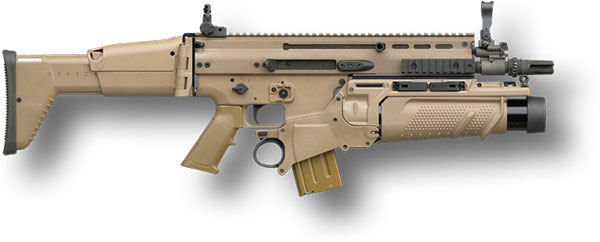 A MK13 Mod 0 launcher mounted on a MK 16 CQC carbine. The MK13 is ambidextrous and can be loaded and fired by left or right hand operators.
FNH USA

MK13 configured as a stand-alone launcher. Note the telescopic buttstock and flip-up leaf sight.
FNH USA