CV-22 Osprey
The CV-22 Osprey is a unique tilt-rotor aircraft that has recently entered service with USAF Special Operations Squadrons. The CV-22 is a more sophisticated version of the MV-22 as operated by the United States Marine Corps. CV-22 Ospreys are operated by the 8th Special Operations Squadron out of Hurlburt Field, Florida.
CV-22 Osprey - Roles
USAF Special Ops use the CV-22 for:
insertion/extraction/resupply of special operations forces
combat search and rescue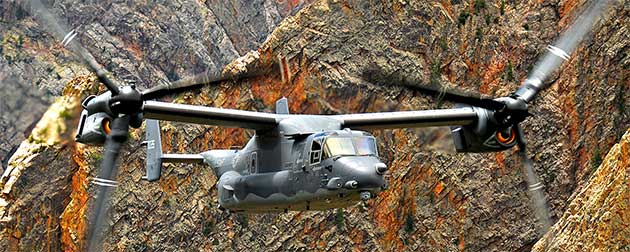 CV-22 Osprey Features
The most remarkable feature of the CV-22 is its tilt-rotor design which allows it to hover and take off and land vertically in addition to transferring to high speed horizontal flight. This design gives the CV-22 the flexibility of the helicopter with the speed and range of a turboprop cargo plane.
For Combat Search and Rescue (CSAR) missions, the CV-22 features:
rope ladder rig
fast rope rig
rescue winch
survivor locator
CV-22 Avionics
USAF CV-22s are fitted with a advanced set of avionics, including:
AN/APQ-174D Multi-Mode Radar

Terrain Following
Terrain Avoidance
Ground Mapping
Weather Avoidance

AN/AAQ-16B/D FLIR Forward Looking Infra Red (FLIR) pod - facilitating all-weather, day/night flying
Integrated GPS/Inertial navigation systems -allows for highly accurate navigation
Defensive countermeasures include:
AN/ALQ-211 radar warning receiver and integrated radar jamming system
AAQ-24 Directed Infrared Countermeasures (DIRCM) system
AN/ALE-47 Chaff/Flare Dispenser
The CV-22 features a suite of aircraft management systems that displays data from the various sensors and control systems onto 4 Multi-function Displays (MFDs) and 2 Control Display Units linked to keyboards.
CV-22 Weapons
AFSOC CV-22s feature a collapsible mount at the rear ramp which can accommodate a M240 7.62mm or M2 12.7mm (.50) machine gun. A retractable, remotely-operated turret with a 360 degree field of operation ,and capable of housing a GAU-17 minigun, can be fitted in the Osprey's belly if so required.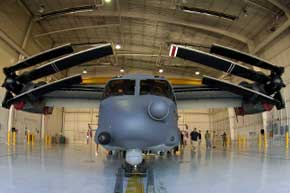 The CV-22's rotors can be folded in order to reduce the space needed to stow the aircraft.
U.S.A.F. photo: Greg Allen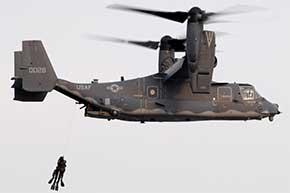 2 Navy SEALs are hoisted up to the rear ramp of a CV-22 The winch can lift up to 600lbs..
U.S.A.F. photo: Senior Airman Andy M. Kin
CV-22 Osprey Specifications
Crew
Pilot, Co-pilot + 2 flight engineers
Engines
2x Rolls Royce-Allison AE1107C turboshaft engines
Dimensions
L - 17.4m
W (wingspan) - 25.8 meters
H - 6.73m
Weights
27,443 kg (max rolling takeoff weight)
23,982 kg (max vertical takeoff weight)
Max Speed
277 mph (cruising speed)
Ceiling
25,000
Range
2,100 nm - with internal auxiliary fuel pods
Payload
24 troops (seated), 32 troops (floor loaded) or 10,000 pounds of cargo
Defensive systems
AN/ALQ-211 RF Countermeasures (radar jamming and warning)
AAQ-24 Directed Infrared Countermeasures (DIRCM) system
AN/ALE-47 Chaff/Flare Dispenser
Avionics
Sensors:
AN/APQ-174D Multi-Mode Radar
AN/AAQ-16B/D FLIR
Radar Altimeter
Survivor Locator (SL)
AVR-2A Laser Warning Receiver
Navigation:
Integrated Navigation Suite:
(Global Positioning System (GPS)
Triply redundant inertial navigation system (INS)
Multi-Mission Advanced Tactical Terminal (MATT)
Enhanced Digital Map
Communications:
4x DCS 2000 Radios:
(VHF FM/AM, UHF, SATCOM, crypto, secure voice)
Aircraft management:
Glass cockpit
4 MFD color displays
Two Control Display Units (CDU) with keyboard
Engine Instrument Crew Alerting System (EICAS)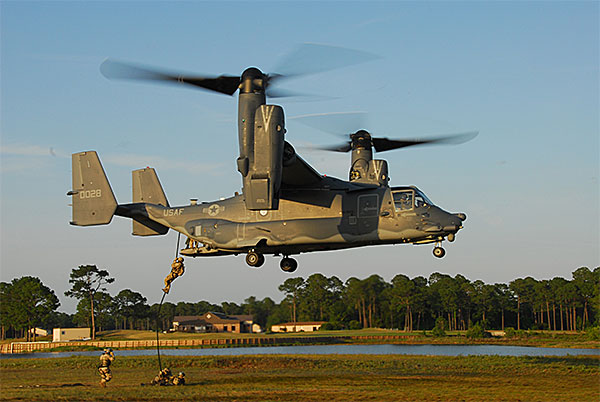 USAF Special Tactics Airmen fast-rope from the rear ramp of a CV-22 Osprey.
US Air Force photo by Chief Master Sgt. Gary Emery
---
CV-22 Osprey Resources