MC-12W
The MC-12W Liberty is a  twin-engine turboprop aircraft operated by elements of Air Force Special Operations Command (AFSOC), including the 137th Special Operations Wing of the Oklahoma Air National Guard.
The aircraft is flown in the medium-to-low level Intelligence Surveillance and Reconnaissance (ISR) role in support of counter insurgency (COIN), Foreign internal Defence (FID) and partnership-building operations.
The Liberty has the ability to loiter for extended periods over the battlefield and gather intelligence. Its advanced sensors allow it to gather patterns of life (POL) intelligence as well as finding and fixing enemy forces. Voice and data links allow the Liberty's two sensor operators to integrate with friendly ground elements
The MC-12W is a militarized version of the civilian C-12 Beechcraft Super King Air 350 design. Modifications include a secure communications fitment which includes line of sight and satellite data links as well as voice comms. The comms package includes a ground exploitation cell which allows data from the MC-12W's suite of sensors to be shared with commanders on the ground. These sensors include a Wescam MX-15 system which features a set of electro-optical and infra-red cameras. The MX-15 can be augmented with a laser designator, allowing the MC-12W to provide terminal guidance for laser-guided munitions.
The MC-12W was developed under the Project Liberty program, a 2008 initiative to rapidly increase overhead surveillance assets available to COIN operations in Afghanistan and Iraq.
The aircraft flew its first combat sortie in Iraq in June 2009. The MC-12W has since flown a large number of missions in both Afghanistan and Iraq. Operators have included the 361st Expeditionary Reconnaissance Squadron, the 4th Expeditionary Reconnaissance Squadron and the 9th Reconnaissance Wing.
When USAF Air Combat Command divested itself of the aircraft type in 2014, a number of MC-12Ws were transferred to Air Force Special Operations Command (AFSOC), including the Oklahoma ANG's newly-created 137th SOW.
MC-12W Specifications
Crew
2 Pilots, 2 Sensor Operators

Engines
Power Plant: 2 x Pratt & Whitney PT6A-60A
Dimensions
Wingspan: 17.65 meters
Length: 14.22 meters
Height: 4.37 meters
Max Takeoff Weight
16,500 lbs
Range
2,400 nautical miles
Ceiling
35,000 feet
Speed
312 Kts
MC-12W Photos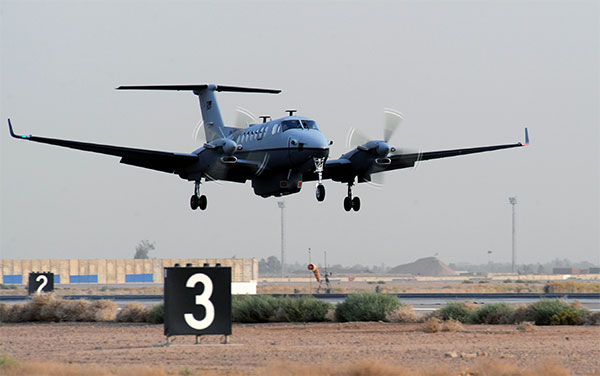 A MC-12W lands at Joint Base Balad, Iraq, June 2009, the end of the type's first combat sortie.
U.S. Air Force photo/Senior Airman Tiffany Trojca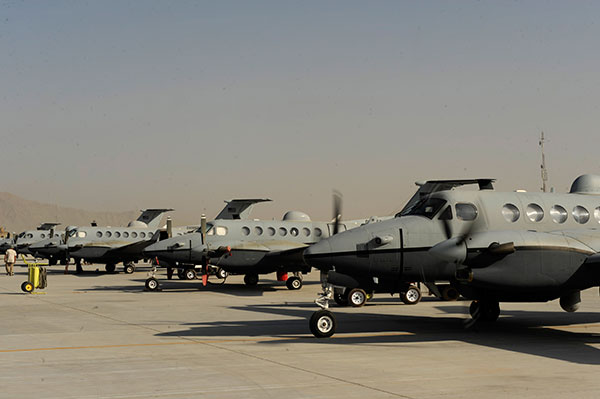 4 MC-12w Liberty aircraft pictured at Kandahar Airfield, Afghanistan, august 2010. The 361st Expeditionary Reconnaissance Squadron flew the Liberty in support of counter insurgency operations on the ground.
U.S. Air Force Photo/Staff Sgt. Eric Harris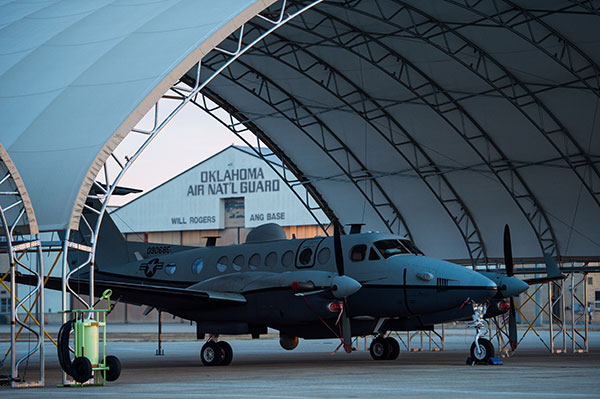 As of 2016, MC-12W is operated by the 137th Special Operations Wing of the Oklahoma Air National Guard.
U.S. Air National Guard photo by Staff Sgt. Tyler Woodward
MC-12W Video
The Air Force enhanced the MC-12W's warfighting capabilities with the development of a 'buddy lase' system which integrated a laser designator into the aircraft's sensors suite. This laser allowed the MC-12W to 'paint' ground targets for bombs and missiles fired from close air support aircraft thus shortening engagement times.
B-roll footage of MC-12W training operations with the 9th Reconnaissance Wing, Beale Air Force Base. Includes footage of a Sensor Operator operating the Wescam camera package fitted to the aircraft.