MC-130J Commando II
The MC-130J Commando II is the latest C-130 variant in the Air Force Special Operations Command (AFSOC) fleet. Based on the KC-130J tanker design, the MC-130J is a state-of-the-art, multi-role tactical airlifter and refueler, designed to replace AFSOC's ageing fleet of MC-130E and MC-130P aircraft. The first MC-130J was delivered to the 522nd Special Operations Squadron, 27th Special Operations Wing, in late September 2011. The MC-130J was initially known as the Combat Shadow II but was eventually officially redesignated as the Commando II
MC-130J Video
MC-130J Commando II - Roles
The MC-130J is a versatile aircraft, configured to fulfull a number of roles:
low-level, multi-ship air-to-air refueling of special ops helicopters and tilt-rotor aircraft such as the CV-22 Osprey
insertion, extraction and resupply via airdrop / airland of personnel and equipment in support of Special Operations Forces
operations in politically sensitive or hostile airspace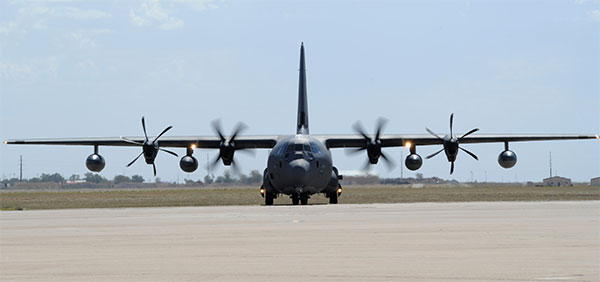 MC-130J Commando II Features
The MC-130J is the first AFSOC bird that has been built specifically by Lockheed Martin for special operations rather than being a modification of existing C-130 airframes. Features of the MC-130J include:
2-pilot flight station
1 Combat Systems Operator (CSO) station
1 auxiliary flight deck station
new turboprop engines with 6-bladed composite propellors
Universal Air Refueling Receptacle Slipway Installation (UARRSI)
Enhanced Cargo Handling System (ECHS)
Enhanced Service Life Wing
60/90 KVA generators
increased DC electrical output
Avionics
The MC-130J is packed with sophisiticated avionics:
AN/AAS-52(V) Electro Optical/Infrared (EO/IR) System
multi-mode radar
dual SATCOM (voice / data)
integrated dual inertial and GPS navigation
advanced digital cockpit featuring multifunction liquid crystal displays
dual special mission processors
Defensive Systems
A Large Aircraft Infrared Countermeasures (LAIRCM) system protects the MC-130J against incoming missiles. The LAIRCM features sensors to detect missiles and a laser to spoof incoming missiles off course. The MC-130J also features flare and chaff launchers.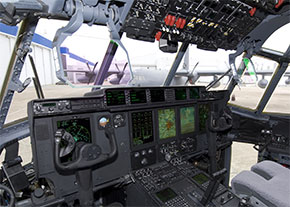 The MC-130J features a 2-pilot flight station with digitial avionics, color multifunctional liquid crystal displays and head-up displays.
photo by : US Air Force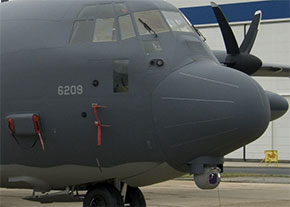 An electro optical / infrared sensor turret is housed under the MC-130J's nose. The nose itself houses a multi-mode radar.
photo : US Air Force
MC-130J Specifications
Crew
2 pilots
1 one combat systems officer
2 loadmasters
Engines
4 x Rolls-Royce AE 2100D3 Turboprops
Dimensions
Length : 29.3
Height : 11.9 meters
Wingspan : 39.7 meters
Max Takeoff Weight
164,000 pounds
Range
3000 nm (without in-flight refueling)
Ceiling
28,000 feet (42,000 pound payload)
Speed
362 KTAS at 22,000 feet
Countermeasures
Large Aircraft Infrared Countermeasures (LAIRCM)
Sensors
multi-mode radar
AN/AAS-52(V) electro optical / IR pod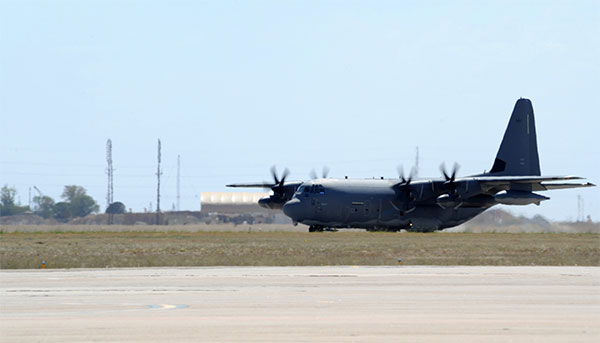 A USAF MC-130J pictured on the flighline at Cannon AFB
U.S. Air Force photo by Senior Airman James Bell
---