Pararescuemen (PJs)
Pararescuemen, or Pararescue Jumpers (PJs), of AFSOC Special Tactics Squadrons and Air Combat Command Rescue Squadrons, are special operators tasked with retrieving personnel from hostile environments.
A typical Pararescue mission would entail insertion by helicopter behind enemy lines in order to find, treat and extract friendly forces such as a downed pilot or wounded special operator. PJs train to jump into water from hovering helicopters. They can also insert by parachute.
The motto of the Pararescuemen is: "That others may live"
Pararescuemen training covers:
parachute training (both basic and HALO)
combat diving
underwater egress training
basic survival
paramedic training
pararescue recovery specialist course
Pararescuemen from the 23rd Special Tactics Squadron in training
Official DoD footage prodiced by Senior Airman Brandy Dirr | released to public domain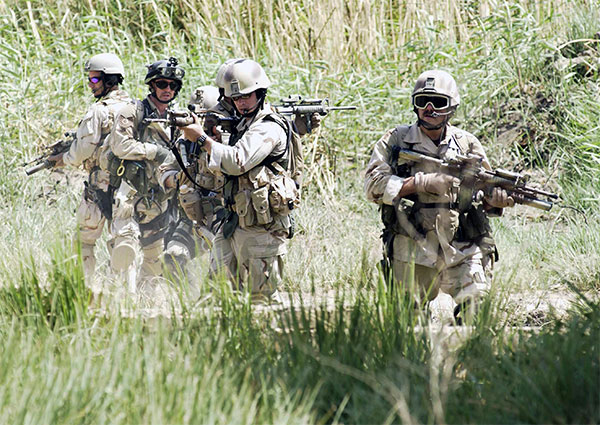 A team of USAF Pararescuemen moves through a stream in Iraq. Note the amount of firepower on display, with several of the team armed with
M203 40mm grenade launchers
fitted to their
M4A1 carbines
. PJs are prepared to fight their way in or out in order to rescue their fallen comrades.
DoD photo by: MSGT JAMES M. BOWMAN, USAF
---
USAF Pararescuemen Resources
photos : Pararescuemen


(click thumbnail for fullsize image)

photo gallery : PJs