Special Operations Weathermen
One of the least well known American Special Operations Units, Special Operations Weathermen nonetheless play a vital role in high risk, special operations, worldwide.
Special Operations Weathermen - Roles
The Special Operations Weathermen are meteorologists tasked with the collection and analysis of mission-critical weather data in support of special operations. These elite airmen are trained to operate in hostile environments in order to produce their forecasts which are a vital piece in the intelligence jigsaw required for the planning and carrying out of special operations. Such is the importance of their role that, on occasion, weather forecasts produced by Special Operations Weathermen have caused mission timetables to be amended by days in order to increase the chances of success. Special Operations Weathermen are also tasked with general intelligence gathering / reconnaissance missions. Special Operations Weathermen typically deploy alongside US Army Special Operations Forces, although they may also operate with the other services. They also combine with Air Force Combat Controllers and Pararescuemen to form Special Tactics Teams.
Special Operations Weathermen Organization
Special Operations Weathermen deploy as Special Operations Weather Teams (SOWT) and are from the 10th Combat Weather Squadron, part of the 720th Special Tactics Group, based at Hurlburt Field, Florida. There are approximately 100 SOWT operators, around 25 of which are Officers.
Special Operations Weathermen Training
Initial Skills U.S. Army Airborne School, Fort Benning, Ga. -- Trainees learn basic parachuting skills required to infiltrate an objective area by static line airdrop in a three-week course.


U.S. Air Force Basic Survival School, Fairchild Air Force Base, Wash. -- This two and a half-week course teaches basic survival techniques for remote areas. This includes instruction of techniques in survival, evasion and escape.


U.S. Air Force Water Survival School, Pensacola Naval Air Station, Fla. -- This one-week course teaches basic water survival techniques.


Initial Skills Training, Hurlburt Field, Fla. -- This unit-level training provides newly assigned weathermen those skills necessary to deploy and operate in permissive and semi-permissive environments. The six-week training includes basic communication, navigation and employment techniques, weapons training and small unit tactics.


Air Force Special Operations Command Advanced Skills Training -- Advanced Skills Training employs a "warrior training warrior" philosophy, teaching the skills necessary for successful service in the Special Tactics community. The six-month training school includes advanced communication, navigation techniques, employment techniques, weapons training and small unit tactics.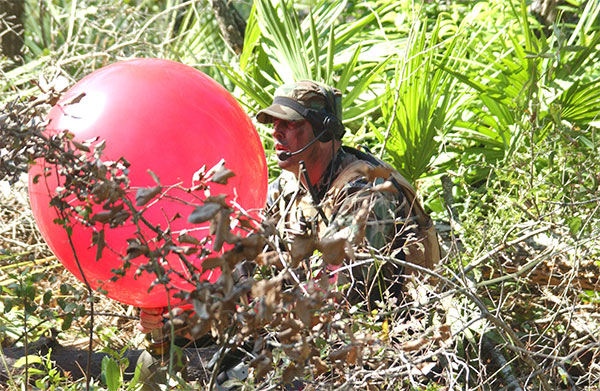 A member of the 10th Combat Weather Squadron, based at Hurlburt Field, Florida, inflates a weather balloon during a training exercise. The weather balloon is used to determine wind direction and velocity. Less conspicuously-colored balloons are used on operations in hostile environments.
photo : US Air Force
---
Combat Weathermen Resources
photos : Special Operations Weathermen


(click thumbnail for fullsize image)

photo gallery : SOWT