Radio Reconnaissance Platoon
Radio Reconnaissance Platoons, which deploy Radio Reconnaissance Teams (RRTs), are specially trained sub units of United States Marine Corps Radio Battalions.
Radio Reconnaissance Platoon - Role
Radio Reconnaissance Teams carry out tactical signals intelligence (SIGINT) / electronic warfare operations for their assigned Marine Air-Ground Task Force (MAGTF). Such operations entail intercepting and monitoring radio communications in order to gather intelligence.
When assigned to a Marine Expeditionary Unit (Special Operations Capable) (MEU)SOC)), Radio Reconnaissance Teams may deploy as an element of the Maritime Special Purpose Force (MSPF) and as such will work in support of Force Recon and Division Recon Marines on special operations.
Radio Reconnaissance Platoon - Organization
There are current 3 Radio Reconnaissance Platoons and can be found in the following Radio Battalions:
1st Radio Battalion, I Marine Expeditionary Force
2nd Radio Battalion, II Marine Expeditionary Force
3rd Radio Battalion, III Marine Expeditionary Force
(became capable of fielding RRTs in 2011)
Radio Reconnaissance Teams typically deploy as a 6-man unit which is made up of:
Team Leader (Staff Seargent or Seargent)
Assistant Team Leader (Sergeant or Corporal)
Point Man
Navigator
Radio-Telegraph Operator (RTO)
Assistant RTO.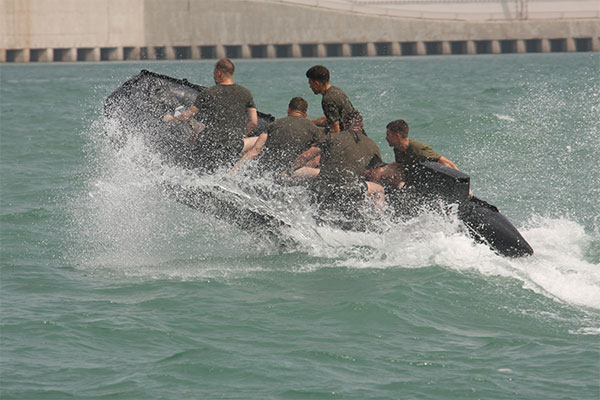 Marines with the 22nd MEU's Reconnaissance Platoon (Division Recon) and Radio Reconnaissance Team travel in a Combat Rubber Raiding Craft (CRRC). RRTs receive training in various methods of insertion and extraction, including over the horizon CRRC, SCUBA, helocasting, parachuting (static-line, HALO, HAHO), Special Patrol Insertion/Extraction and helicopter touchdown.
DoD photo by Staff Sgt. Matthew Epright (Released)