Recapture Tactics Team
Recapture Tactics Teams (RTT), otherwise known as Marine Corps Security Force Close Quarters Battle Teams, are elite tactical units that help guard specific U.S. Naval facilities.
Recapture Tactics Team - Role
Recapture Tactics Teams are a contingency force ie they are on alert to respond to a threat to security at their deployed location. Unlike FAST Companies, who typically deploy as and where needed, RTTs are continuously deployed to their designated Naval installation.
There is a Recapture Tactics Team stationed at Naval Submarine Base Kings Bay, Florida and another at Naval Submarine Base Bangor, Washington. Both bases are home to ballistic nuclear missile submarines.
As the name indicates, Recapture Tactics Teams are tasked with regaining control of property, personnel and material that has been captured during a security breach. This includes the recapture of nuclear weapons and associated vessels and facilities.
Recapture Tactics Teams (RTT) - Organization
Each of the 2 extant RTTs are an element of the Marine Corps Security Force (MCSF) Battalion assigned to guard a specific base.
MCSF Battalion - Kings Bay (MCSFBn Kings Bay)
MCSF Battalion - Bangor (MCSFBn Bangor)
There are 3 elements to a Recapture Tactics Team squad
Breachers
skilled in various methods of entry, including using explosives
Shooters
trained in close quarters battle (CQB)

Designated Marksmen
sharpshooters, typically armed with M110 sniper rifles

Recapture Tactics Team- Training
RTT units attend the following schools:
Basic Security Guard (Marine Security Guard Anti/Counter-Terrorism Training)
High Risk Personnel also known as Executive Protection, similar to Protective Services Detail, the military version of Federal Law Enforcement Training Center
Close Quarters Battle (CQB)
Designated marksman
Methods of Entry or MOE, (small unit demolition and door breaching tactics)
Interservice Nonlethal Individual Weapons Instructor Course (when dealing with possible riot situations)
CQB Team operators undergo the same training as FAST Marines, although at the squad level rather than platoon level. RTT operators hold the Military Occupational Specialty of MOS 8154 - Marine Corps Security Force (MCSF) Close Quarters Battle (CQB) Team (type - FMOS, range - SSgt to LCpl).
Some of the training exercises that RTTs undergo include:
React to a security alert
Recapture strategic weapons within an exclusion structure
Conduct entry into an exclusion Structure
Recapture strategic weapons within a limited area
Conduct augmentation of posted security forces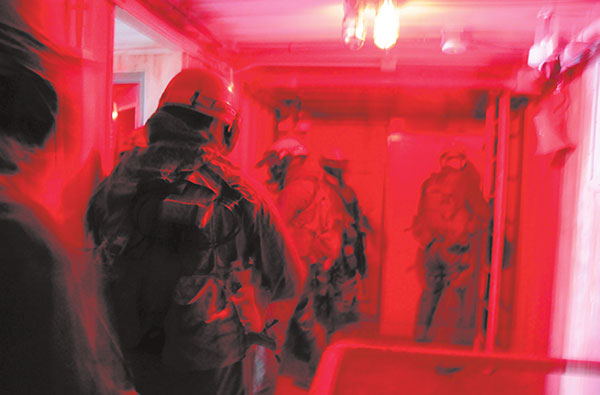 Marines with the Kings Bay Recapture Tactics Team practise CQB drills in a 'ship in a box' training facility.
US DoD Photo By MC3 Eric Trotter