Scout Snipers
U.S. Marine Corps Scout Snipers are highly trained Marines, skilled in sniping and reconnaissance. Scout Snipers have a secondary Military Occupational Specialty (MOS) code of MOS 0317 that can be earned by both Infantry and Reconnaissance Marines.
Scout Snipers - Role
Scout snipers have two main roles. One role is to use precision weapons to deny the enemy freedom of movement and disrupt their operations by shooting key personnel such as commanders, radio operators, messengers etc. They may also take out hard targets such as communications equipment, armored vehicles, generators etc. The other role of Scout Snipers is to carry out reconnaissance and surveillance operations for their assigned battalion.
Scout Snipers can deploy as part of a Marine Expeditionary Unit's Maritime Raid Force.
Scout Snipers - Organization
Scout snipers assigned to infantry battalions are part of a Scout Sniper Platoon (SSP), which is typically an element of the headquarters and service (H&S) company of their assigned battalion. Each SSP is made up of 8-10 2 man sniper teams. A Scout Sniper team consists of :
Scout Sniper Leader - typically equipped with a M40 or MK 11 Mod 0 rifle for taking out enemy personnel. He will also carry a high powered spotting scope.
Scout Sniper - typically armed with a large-caliber anti-material rifle such as the M82A3 SASR.
Scout Sniper Video
US DoD video by Lance Cpl. Tucker Wolf | released to public domain
scout sniper Marines with 1st Battalion, 1st Marines, RCT-6 during Operation Helmand Viper.
US DoD video by Cpl Ed Galo | released to public domain
Scout Sniper Training
Marines wishing to gain the Scout Sniper designation must go through an extensive selection and training process.

more info : Scout Sniper Training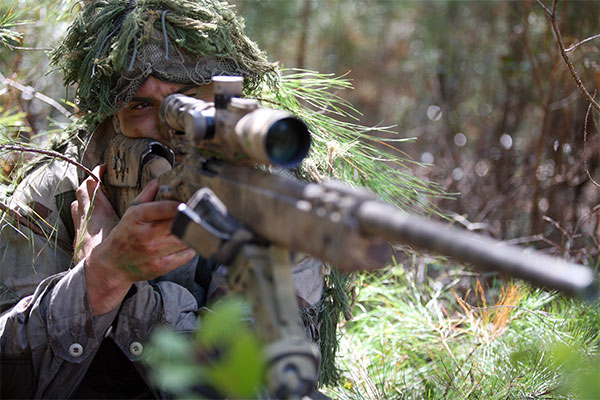 Official U.S. Marine Corps photo by Lance Cpl. Brian M. Woodruff
Scout Sniper Resources
Scout Sniper photos