Non-standard Tactical Vehicles (NSTV)
Non-standard Tactical Vehicles (NSTV or NTV), also known as Non-standard Commerical Vehicles (NSCV) are civilian 4x4 vehicles adapted for use by special operations forces.
Special Forces Toyotas
NSTVs were in particular demand in the early stages of the war in Afghanistan. Members of the Army Special Forces acquired some locally-sourced 4x4s for their own use. These were typically Toyota Hilux flatbed pickup trucks in both single and double cab configurations of the type used by both the Northern Alliance and the Taliban. The ubiquity of the vehicles meant that it was relatively easy to source spare parts. It also gave the Special Forces a lower profile as they could better blend in with friendly forces. These locally-sourced Toyotas were jury-rigged with machine gun mounts and racks for boxes of ammo and other supplies.
As the war progressed, USSOCOM purchased a number of Toyota Tacomas, mostly 4-door dual-cab versions, from the U.S. These were modified at Fort Campbell before being shipped to Afghanistan. Modifications included:
custom-made mount for a belt-fed machine gun such as a M240 or M249, typically fitted on a roll-bar behind the cabin
normal headlights replaced with infrared lamps to be used in conjunction with night vision
all interior and exterior lights were removed or disconnected e.g. brake lights, cabin lights as well as any warning buzzers
antennae for VHF, UHF and satellite communications
Blue Force Tracker units were added
a winch was installed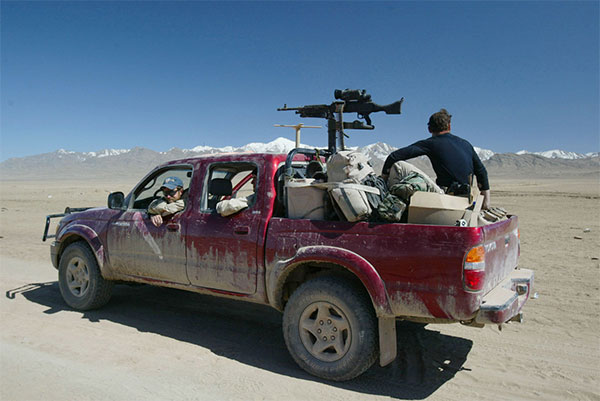 A special forces 4-door, dual-cab Toyota Tacoma in service in Afghanistan. Note the M240b 7.62mm machine gun with Raptor night sight mounted on a roll-bar fitted behind the cab. The petrol-driven V-6 engines were quieter than the diesel ones found in the GMV.
U.S. DoD Photo
---
NSTVs in Iraq
Army Special Forces also used a number of Toyota Tacomas and Land Rover Defenders in northern and western Iraq during the initial stages of Operation Iraqi Freedom. These were fitted with mounts for M240s and MK-19 grenade launchers. Delta Force, as part of Task Force 20, also fielded a number of NSTVs, mostly Land Rover Defenders during the invasion phase of the conflict. Later, they would source a range of local vehicles for use on covert operations.
---
Current models of NSTV fielded by SOCOM include the Toyota Land Cruiser 200 and Toyota Hilux Double Cab. These have been modified to include:
Upgraded suspensions
Chassis reinforcements
Balistic armor packages (on some models, others are unarmored)
Command, Control, Communications, Computers, Intelligence, Surveillance and Reconnaissance (C4ISR) mounts and wiring
Navigation systems
Roof racks
Run-flat tyres
InfraRed lighting and blackout capability.

Modern NSTVs: Toyota Hilux (left) and Land Cruiser 200 (right).
U.S. DoD Photo