AN/PAS-13 Thermal Weapon Sight
The AN/PAS-13 Thermal Weapons Sight (TWS) is a portable infrared sensor that can be used to aquire targets at long range, at night and during the day. It is a passive system which means it does not emit any signals that can be detected by the enemy. Unlike image-intensifier systems, a thermal sight is not susceptible to 'bloom' issues ie being overwhelmed by sudden bright sources of light.
The PAS-13 comes in light (v1), medium (v2) and heavy (v3) versions. The v1 is typically fitted to weapons such as M16 rifles or rocket launcers such as the M136 (AT4). The v2 may be mounted on light and medium machine guns such as the M249 or M240. The v3 is typically mounted on longer range systems such as sniper rfiles, M2 machine guns and Mk19 grenade launchers.The sights feature a data port that allows them to be connected to external equipment such as recording devices. Various recticules can be programmed into the units depending on mission needs. The sights run on disposable lithion or rechargable lithium-ion batteries.
The AN/PAS-13 is used by regular and special operations units alike. The Marines of 1st Recon, for example, carried AN/PAS-13 sights with them when they spearheaded the invasion of Iraq in 2003.
Specifications Medium / TWS Heavy TWS
AN/PAS-13B(V)2 AN/PAS-13B(V)3
(P/N 3252600-1) (P/N 3252600-2)
Performance:
Range:
Detect/recognize human: 1.2 km (NFOV) 2.8 km (NFOV)
Detect vehicle: 1.5km (WFOV) 2.8 km (WFOV)
4.2 km (NFOV) 6.9 km (NFOV)
Field of view:
Wide (WFOV): 18 deg az × 10.8 deg el 9 deg. az × 5.4 deg el
Narrow (NFOV): 6 deg az × 3.6 deg el 3 deg. az × 1.8 deg el
Magnification:
NFOV: 5.0× 10.0×
WFOV: 1.66× 3.3×
Physical Characteristics:
Length: 40 cm (15.8 in.) 46 cm (18.11 in.)
Width: 16 cm (6.3 in.) 16 cm (6.3 in.)
Height: 16 cm (6.3 in.) 16 cm (6.3 in.)
Weight: 2.3 kg (5 lb) with battery 2.5 kg (5.5 lb) with battery
National stock number (NSN): 5855-01-464-3152 5855-01-464-3151
Qualified Weapons: M4, M16, M60, M240, M249 M2, M4, M16, MK19, M24, M3M
Operational:
Reliability: High reliability, no cooling motor to wear out
Operating temperature: -37° to +49°C
Storage temperature: -46° to +71°C
Moisture resistance: Immersible to 1 m of water
Vibration: Withstands M60A3 tank turret
Mechanical shock: Withstands weapon fire shock
Time to operation: Less than 120 seconds from power on
Image polarity: White hot/black hot
Maintenance: Only external cleaning is required
Mission operation life: 7.0 hours on BA-5347; 3.5 hours plus 1.5 hours standby on BB-2847
Interfaces:
Power requirements: BA-5347 disposable lithium (LiMnO2); BB-2847 rechargeable battery (Lithium ion)
Mounting: Picatinny MIL-STD-1913 or NATO/STANAG
Video output: EIA-RS-170, NTSC
Technolgy:
Detector: 40 × 16 scanning focal plane array (640 pixels); 3 to 5 µm IR spectrum
Cooling: 6-stage thermoelectric cooler
Standard accessories included: Hard plastic storage/transportation soft carry bag, telescope lens cover,
operations manual, lens cleaning kit,weapon mount adapter
Optional accessories: Video output cable, rechargeable, lithium ion battery, disposable lithium battery
AN/PAS-13 - Images And Further Information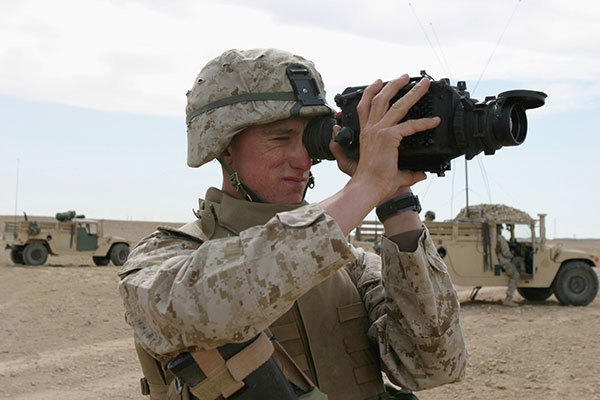 A US Marine peers through a AN/PAS-13 (medium) sight - the PAS-13 can be fitted to a weapon or used as a hand-held unit, as shown here.
U.S. Dod photo by LCPL KEVIN C QUIHUIS JR, USMC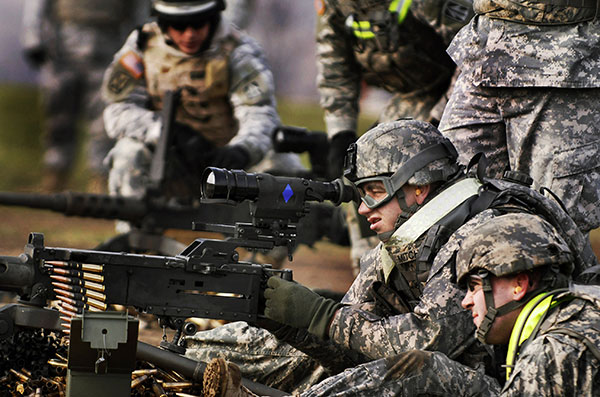 National Guard soldiers operate M2 .50 cal machine guns mounted with PAS-13 (heavy) thermal sights. The PAS-13 series of sights can be mounted on a range of weapons, including M4A1 carbines, sniper rifles and heavy machine guns.
U.S. Army photo by Staff Sgt. Russell Lee Klika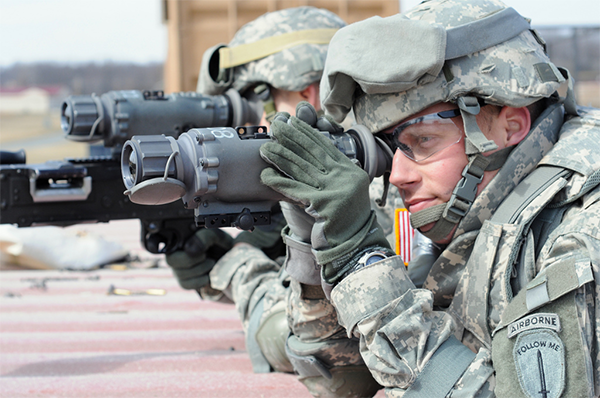 AN/PVS-13 TWS shown fitted to a M240 machine gun and used as a hand-held device by U.S Army soldiers.
U.S. Army Photo
---