AN/PVS-17 Night Vision Scope
The AN/PVS-17 is an image intensifying night vision sight that has replaced the AN/PVS-4. The PVS-17 is based around a 3rd generation image intensifier tube.
Weighing in at less than 2lbs, the AN/PVS-17 is a lightweight scope in use with US Special Operations Forces (SOF) and the United States Marine Corps. The sight can be submerged below water to a depth of 66 feet.
The scope comes in 2 flavors. The AN/PVS17b uses a 2.25x magnification while the AN/PVS-17C uses a 4.5x magnification.
The AN/PVS-17 can be mounted on any Mil-std 1913 rail, and can be used with a variety of weapons. Typically, the AN/PVS-17b is used with weapons such as such as the M4 Carbine or the M16 while the PVS-17C is mounted on support weapons such as M249 and M240 machine guns.
Specifications AN/PVS-17b
High-performance GEN III image intensifier

Weight: <2.0 lbs (with battery)

Quick-detach (QD) weapon mount

Battery Life: 16 hours nominal

Low battery indicator

Reversed battery polarity protection

Manual gain and focus adjustments

Az and El adjustment Knobs

Quick detach Throw Lever mount

EyeCam sensor to output NTSC

Detection Range > 350m
AN/PVS-17 - Images And Further Information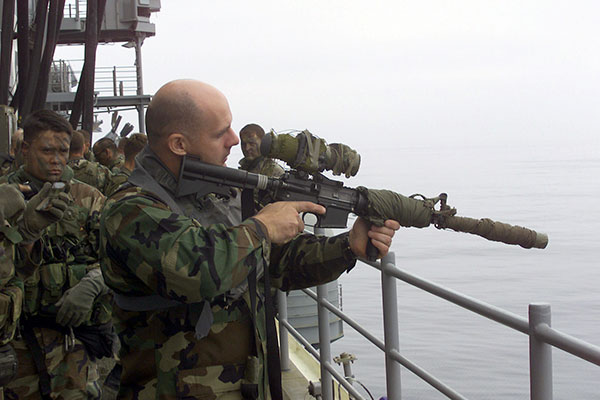 A Marine with Force Reconnaissance peers through a AN.PVS-17 mounted on a M4a1 Carbine. The PVS-17 were used by US forces during the invasion of Iraq, 2003. Some teething problems were experienced in the field, namely the scope shutting off when the weapon it was mounted on was fired. This fault has since been rectified.
U.S. Dod Photo
---