Combatant Craft Heavy (CCH) SEALION
The Combatant Craft Heavy (CCH) SEALION is a surface vessel employed by U.S. Naval Special Warfare Special Boat Teams.
The SEALION (Sea Air Land Insertion, Observation and Neutralization) has a primary role of the long range clandestine insertion and extraction of Navy SEALs in medium-to-high threat level environments. It also has limited coastal patrol and maritime interdiction capabilities.
2 prototypes of the design, SEALION-I and SEALION-II were trialed extensivley by the U.S. Navy from 2003 onwards as part of an advanced technology demonstration (ATD) program.The 2 boats were eventually refurbished and brought into operational service in fiscal year (FY) 2014. A program is underway to develop and field the next iteration of design, the SEALION-III, slated for delivery in FY 2018.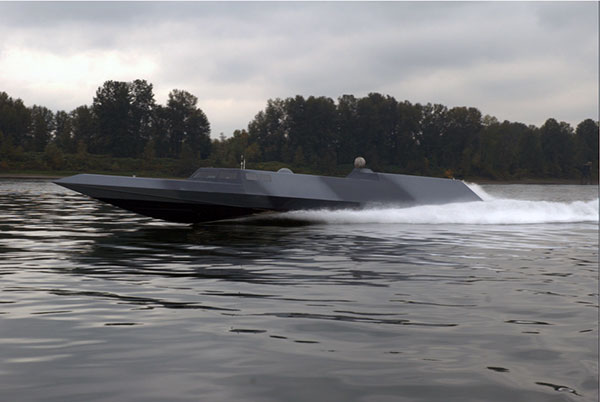 SEALION II vessel.
U.S. Navy Special Warfare Command photo
CCH SEALION Design Features, Equipment & Specifications
The SEALION is manufactured by Oregan Iron Works inc. The boats come in at around 80 feet long and feature wave-piercing hulls.
The following information is based on a 2013 request for information (RFI) issued by SOCOM Program Manager – Surface Systems (PM-SS to research possible sources for the SEALION III. [1] The RFI states that "SEALION III will maintain the same capabilities of SEALION I and SEALION II with minor modifications to implement improvements in the areas of Reliability/Availability/Maintainability (R/A/M) and safety." From the features specified, it may be deduced that the SEALION family of vessels have the following characteristics:
The SEALION features flat deck areas and a fully-enclosed, climate-controlled cabin space, including a crew compartment, electrical compartment, engine compartment and a payload bay at the rear. A door at the stern allows for a zodiac combat rubber raiding craft (CRRC) to be launched and recovered.
The crew compartment features seven deck mounted seats and standing room for four. The compartment features coxswain and navigator stations from where primary craft steering is controlled via joysticks and tillers. The craft can also be operated from a remote station on the topside deck. The crew compartment also features an engineering station from where craft systems can be monitored and controlled.
The payload compartment can be configured to meet specific mission requirements. For instance, a set of 8 seats can be fitted, allowing for a full SEAL squad to be carried as passengers. Without the seats, an inflated CRRC, a deflated CRRC and engines for both can be stowed in the bay.
The CCH SEALION carries a Combatant Craft Forward Looking Infrared (CCFLIR) pod situated about two thirds along its length. The CCFLIR package includes stabilized infrared, day color and low light cameras, laser range finder and laser pointer. Other sensors fitted to the SEALION include a Furuno DRS4D radar. Navigation systems include a Furuno Global Positioning System (GPS). The vessels features attennae for SATCOM, UHF, VHF and Line Of Sight communication systems.
The design of the SEALION includes extensive use of thermal and acoustic insulation materials.
The CCH SEALION III fuel system will feature 2 450 gallon day tanks, and 2 530 gallon aft-located fuel tank.
The SEALION can be transported by C5 and C17 cargo aircraft. It may also be transported by an L-class well deck amphibious vessel.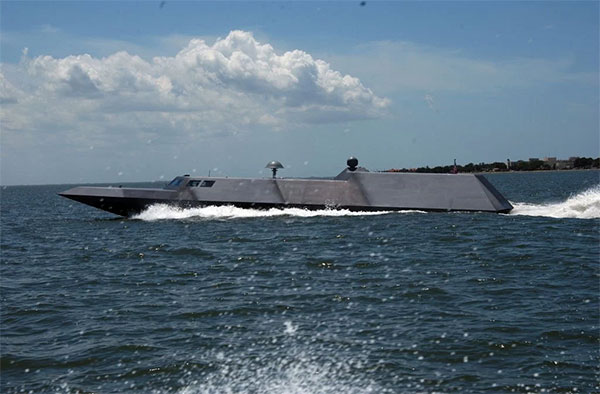 CCH SEALION II. Note what appears to be a radar sensor and/or communications attennae atop a mast - extended in this photo.
U.S. Navy Special Warfare Command photo
CCH SEALION specifications (approx):
| | |
| --- | --- |
| Crew | 7 Crew |
| Capacity | Crew + 12 SEALs + mission equipment |
| Length | 80 ft |
| Height: | 9.5 ft |
| Beam (width) | 14.5 ft |
| Full Load Displacement | 80,000 lbs |
| Lightship | 65,000 lbs |
| Fuel Capacity | 1,400 gal |
| Engines | 2 x 1,500 brake horse power 10V2000 M93 CR diesel engines |
| Propulsion | twin-water jet diesel |
References:
1. SEALION III
(Special Operations International magazine)