AN/PSC-5 Radio
The Raytheon AN/PSC-5 radios are a family of compact and lightweight manpack Multiband Multimode radios used by United States Special Operations Forces (SOF), including Delta Force.
The AN/PSC-5 Enhanced Manpack UHF Terminal (EMUT) SPITFIRE communicates in VHF-UHF bands in line of sight mode and UHF and Demand Assigned Multiple Access (DAMA) for narrow-band satellite communications. The sets feature Embedded Communications Security (COMSEC).
The advanced AN/PSC-5c SHADOWFIRE adds additional ECCM, COMSEC, and networking capabilities and is available as an upgrade kit for SPITFIRE sets.
The AN/PSC-5 sets weighs just under 20 pounds with battery pack attached.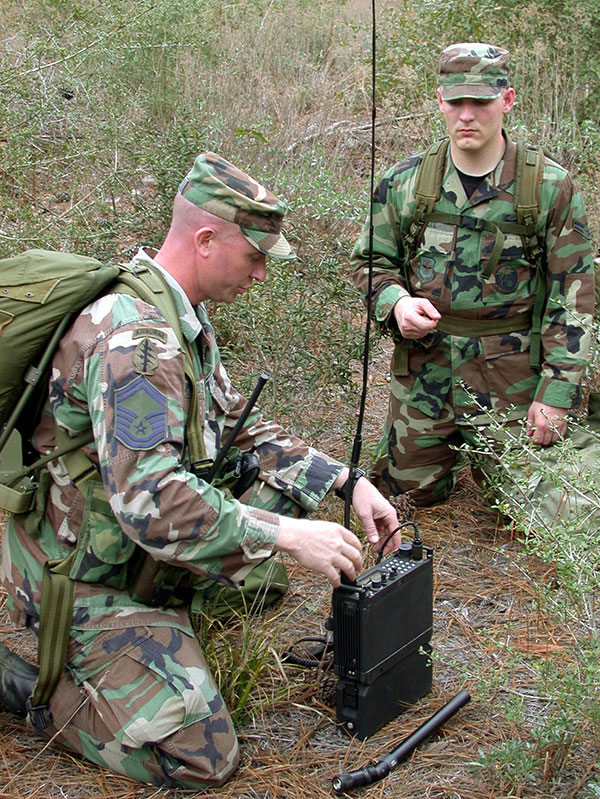 A Special Operations Weatherman demonstrates the AN/PSC-5 SPITIFRE radio.
Special Operations Weather Teams
(SOWT) use the SPITFIRE to send back forecasts and other intelligence when out in the field.
U.S. Air Force photo by Capt. Denise Boyd