HH-60G Pave Hawk Heicopter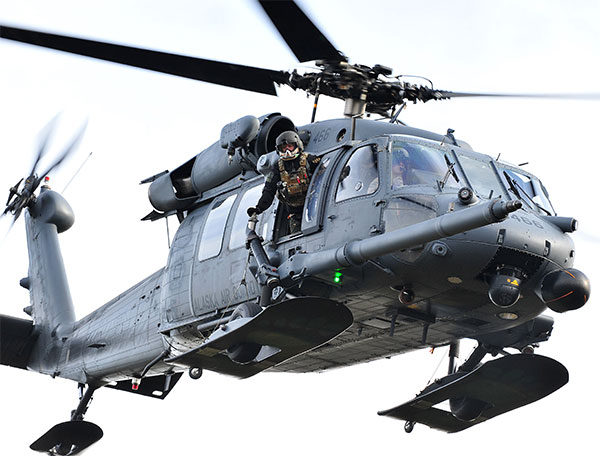 image sourced from public domain | U.S. Air Force photo by Staff SGT. Zachary Wolf
A HH-60G Pave Hawk helicopter of the 210 the Rescue Squadron, Alaska Air National Guard 176th Wing, transports U.S. Army personnel and pararescuemen with the 212th Rescue Squadron during training at Joint Base Elmendorf-Richardson, Alaska.
Note the snow skis fitted over this Pave Hawk's wheels.
The HH-60G Pave Hawk is a medium lift helicopter used for Combat Search and Rescue (CSAR) missions and is operated by various U.S. military forces including Air Combat Command, Air National Guard and Air Force Reserve Command.
Based on the UH-60A Black Hawk, the HH-60G features a number of modifications that allow it to carry it out its CSAR mission.
These modifications include a rescue hoist, retractable in-flight refueling probe, forward-looking infrared (FLIR) pod, weather radar, an advanced suite of navigation avionics and a variety of electronic countermeasure systems.