M39 Enhanced Marksmanship Rifle (EMR)
This medium sniper rifle, used by the USMC, including MARSOC, is an accurized and modified variant of the United States Marine Corps Designated Marksman Rifle, itself a medium sniper variant of the M14 rifle, which the EMR is set to replace throughout the Corps.
The M39 EMR has had a number of modifications made to the basic DMR design:
a variable-length stock
the addition of an ergonomic pistol grip
a more durable Harris folding bi-pod
MIL-STD-1913 Picatinny rail for the mounting of scopes, aiming devices etc
Like the DMR, the EMR is designed to be used as in the Designated Marksman role - a sniper unit integrated at the squad level, typically with the ability to lay down rapid, accurate fire out to 800 meters. The M39 is typically issued with match-grade M118LR 175-grain Long Range ammunition.
The M39 EMR bears a resemblence to the
MK 14 Mod 0 EBR
.
M39 Enhanced Marksmanship Rifle Specifications
| | |
| --- | --- |
| weight: | 16.5 lbs (with sight, bipod fitted) |
| length: | 44.2 inches |
| barrel length: | 22 inches |
| rate of fire : | semi-automatic |
| muzzle velocity : | 2,832 feet per second |
| caliber : | 7.62mm x 51mm NATO |
| magazine : | 20 round box magazine |
M39 EMR - Photos & Further Info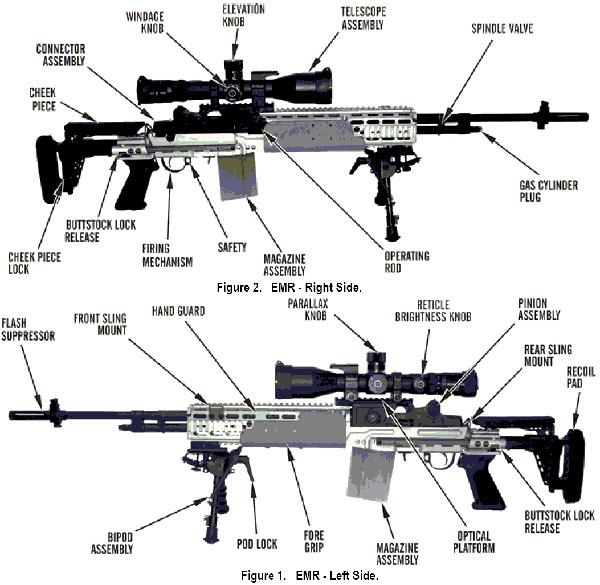 Graphic showing the features of the M39 EMR
photo : US DoD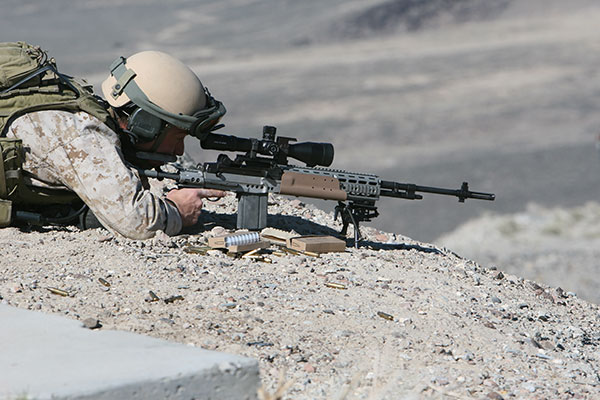 A Marine with the 2nd MSOB, MARSOC, takes aim with a M39 Enhance Marksmanship Rifle at a desert training range.
photo : US Dod