SR-25 Sniper Rifle
The Knights Armaments SR-25 family of weapons are 7.62x51mm semi-automatic medium sniper rifles in use with both regular and special operations forces within the US military.
The various flavors of SR-25 have made their way into US military service, each with a different designation.
US Army - The M110 Semi-Automatic Sniper System
US Marine Corps - MK 11 Mod 0
US Navy - Mk 11 Mod 0 Sniper Weapon System
The M110 has been used by Delta Force snipers operating in the mountains of Afghanistan, most notably during the hunt for Osama Bin Laden in Tora Bora, 2001. Navy SEAL snipers used MK11 Mod 0 to take out pirates holding Captain Richard Phillips hostage aboard a lifeboat in 2009.
SR-25 Specifications
| | |
| --- | --- |
| weight: | 15.3 lbs |
| length: | 45.4 inches |
| barrel length: | 20 inches |
| rate of fire : | semi-automatic |
| muzzle velocity : | 2,571 feet per second |
| caliber : | 7.62mm x 51mm NATO |
| magazine : | 10 / 20 rounds |
SR-25 - Images and Further Info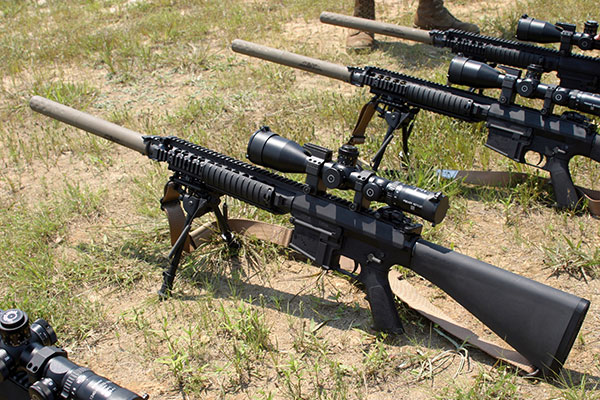 USMC MK 11 Mod 0 sniper rifles. The MK 11 is fitted with Leupold sights, swivel-base bipod and QD sound suppressor. A Picatinny-Weaver rail system allows for the mounting of various accessories.
U.S. Marine Corps photo by Lance Cpl. Patrick M. Johnson-Campbell/Released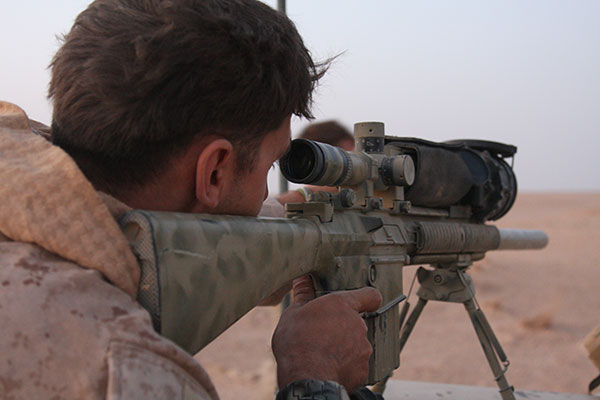 A US Marine scans across the desert into Syria from Iraq using a Magnum Universal Night Scope mounted on a MK11 Mod O rifle.
U.S. Marine Corps photo by Cpl. Tyler W. Hill/Released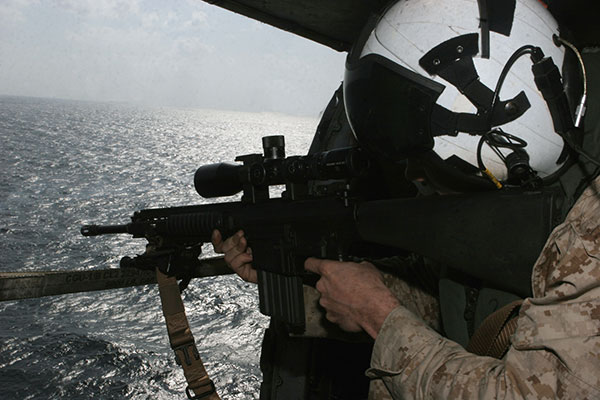 A USMC
Scout Sniper
takes aim with a MK 11 sniper rifle out the cabin door of a HH-60H Sea Hawk helicopter.
U.S. Marine Corps photo by Cpl. Patrick M. Johnson-Campbell/Released

A US Army M110 - the M110 is similar to the MK 11 Mod O except for :
URX modular rail system
adjustable stock
flash hider
1-piece scope mount

A M110 with a AN/PVS-30 clip-on sniper night sight.
U.S. Army Photo