M-ATV
The Mine Resistant Ambush Protected All-Terrain Vehicle (M-ATV) is vehicle used by Special Operations Command and other US forces such as the United States Marine Corps (USMC).
The M-ATV is designed to protect its occupants against IEDs and small arms fire while being light and agile enough to operate in the rough terrain of Afghanistan. At 12.5 tons it is lighter than some other Mine Resistant Ambush Protected (MRAP) models such as the 16 ton Cougar. The M-ATV is designed to replace M114 HMMWVs in Afghanistan and is manufactured by the Oshkosh Corporation
M-ATV Features
The M-ATV has the following features::
Plasan composite armor
Seating for 1 driver and 4 passengers
Centrally inflated run-flat tires
V-shaped hull designed to channel mine blast away from the vehicle
MTVR medium truck chassis with TAK-4 suspension with 16 inches of independent wheel travel
optional Remote Weapon System / Crew Remote Operated Weapons System (CROWS) - a top-mounted turret that can be fired from within the vehicle and can be fitted with belt-fed machine guns such as the M240 and M2, 40mm grenade launchers and BGM-71 TOW missile launchers
M-ATV Variants
Aside from the standard model, the M-ATV comes in a number of variants:
M-ATV SOCOM - configured for special operations with a cargo area capable of being fitted with swappable equipment packs, large windscreens for increased visibility, seating for a 5th passenger / gunner and rear cargo access door.
M-ATV utility - fitted with an expanded flat bed cargo area
M-ATV tactical ambulance - featuring litters for up to 4 patients
M-ATV - Specifications
Engines
7.2 liter inline-6 Caterpillar C7 turbodiesel
370 bhp; 925 lb-ft
Dimensions
Length : 246.8 inches
Height : 82.2 inches
Width : 98.1 inches
Wheelbase : 133.8 inches
Curb weight
25,000 lbs
Gross weight
32,500 lbs
M-ATV Photos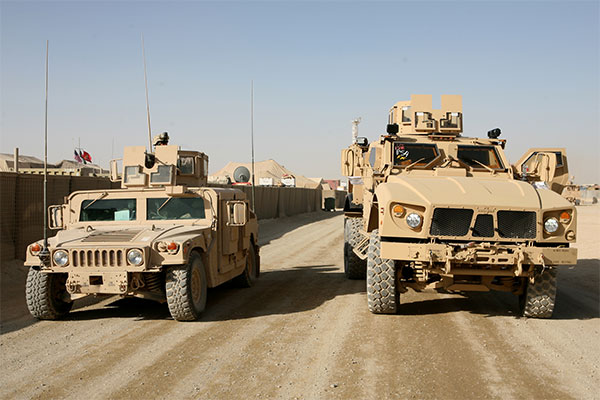 A M-ATV (right) pictured next to a HMMWV. The HMMWV can be up-armored to provide protection against small arms fire but was never designed to protect against mines and roadside bombs, unlike the M-ATV which features a v-shaped hull designed to channel blast waves away from the vehicle's crew. The M-ATV has replaced the HMMWV in service in Afghanistan.
DoD photo by: Cpl. Michael Curvin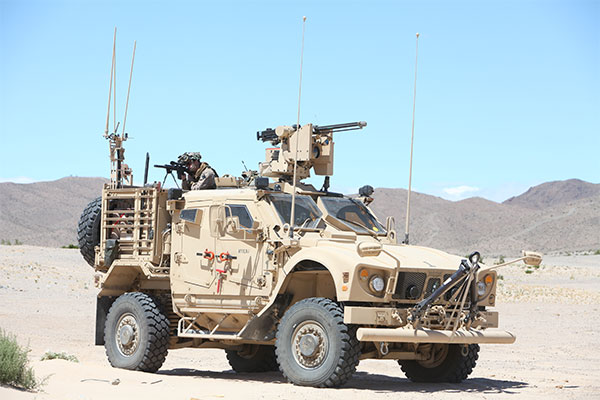 A Marine assigned to a
Marine Special Operations Battalion
(MSOB) provides overwatch with a
MK11 Mod 0 sniper rifle
from the rear of a M-ATV vehicle during a training exercise. Note the M2 .50 caliber machine gun, fitted with a blank firing adapter, mounted on the CROWS turret atop the vehicle.
DoD photo by: Cpl. Kyle McNally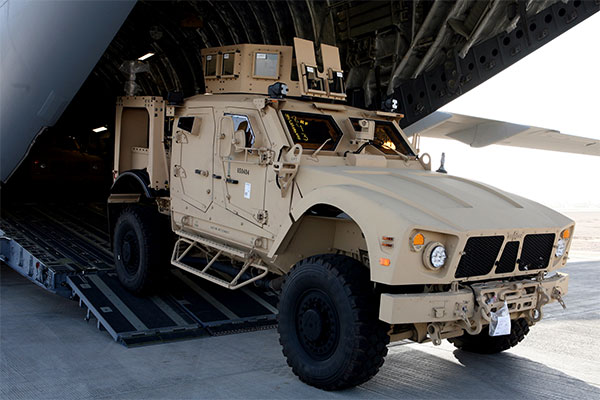 A M-ATV drives off the ramp of a USAF C-17 cargo aircraft. This M-ATV is fitted with a shielded gunner's turret where various machine guns or grenade launchers can be mounted.
DoD photo by: Cpl. Michael Curvin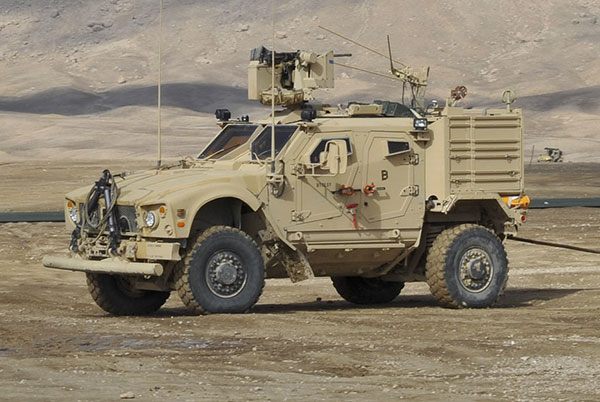 A M-ATV pictured in Afghanistan
DoD photo by: MC2 Jon Rasmussen