M1161 Light Strike Vehicle
The M1161 is an Internally Transportable-Light Strike Vehicle (ITV-LSV) that is use with the United States Marine Corps (USMC), including Marine Special Operations Battalions (MSOBs). The vehicle is designed for the light utility, light strike and scout roles.
Designed to be transported in the V-22 Osprey, the M1161 LSV is a compact vehicle with minimal ballistic or blast protection. Like ATVs and LTATVs, the M1161 is likely to be deployed on operations where its off-road capabilities and air-transportability allow it circumvent the IED threat.
Features of the M1161 LSV include:
2.8 liter in-line 4 cylinder SOHC 12-valve turbo diesel engine


height-adjustable Air Ride gas bladder suspension.

Four Wheel Steering (4WS)


Run-Flat rims, inserts and tires


The LSV is designed to accommodate enough equipment and supplies for up to 3 days in the field. Max payload 2000lbs


The vehicle features a occupant restraint systems and foldable/stowable Roll-Over Protection System (ROPS.


Blackout Lights function that allows for NVG night time operation


padded Kevlar frag-resistant seats


rear portion of vehicle features a gunner's ring where a M240 medium machine gun, M2 heavy machine gun or 40mm automatic grenade launcher can be mounted


collapsible roll-cage allows for helicopter transportation


The M1161 is manufactured by produced by General Dynamics Ordnance & Tactical Systems (GDOTS). It is understood the Special Operations Command (SOCOM) is interested in purchasing a modified variant of the M1161.
M1161 LSV Specifications
| | |
| --- | --- |
| Length (OAL) | 163.0" |
| Width | 60.0" |
| Height inside V-22 (folded/stowed, suspension lowered) | 46.9" |
| Height outside V-22 (fully rigged; suspension at road height setting) | 72.5" |
| Height outside V-22 (suspension at high setting) | 75.5" |
| Gross Vehicle Weight | 6,536 lbs. |
| Vehicle Curb Weight | 4,536 lbs. |
| Payload: | 2,000 lbs. |
| Fording depth (no kit) | 30.0" |
| Fuel: | JP-8, Commercial Diesel, DF-2, JP-5 |
| Fuel Capacity: | 24.0 gallons total from twin 12.0 gallon fuel tanks |
| Vehicle top speed (paved roads) | 65+ mph |
| Engine Performance | 132 bhp @ 3,600 rpm / 230 ft lbs. torque |
M1161 LSV - Photos & More Info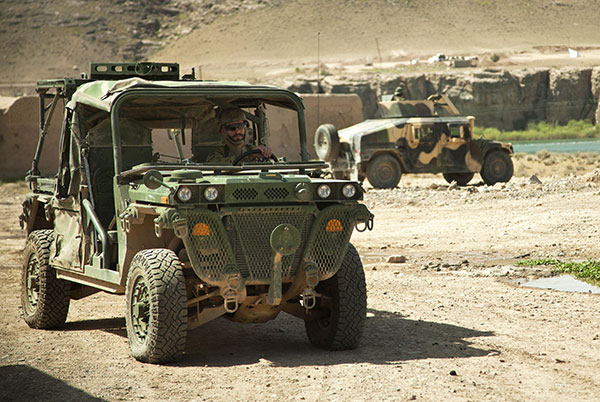 A Critical Skills Operator with a Marine Special Operations Battalion pictured in a M1161 LSV while on an operation in Helmand Province, April 2013.
U.S. Marine Corps Photo by Sgt. Pete Thibodeau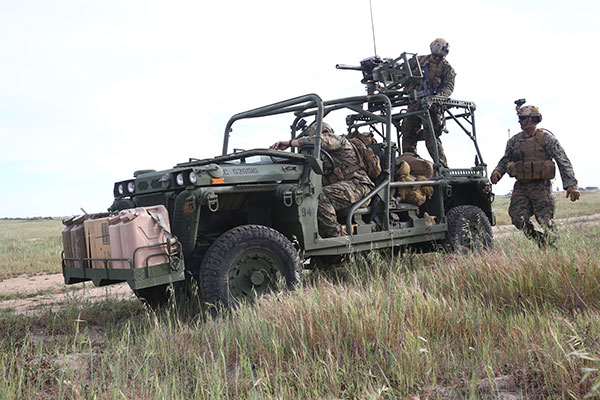 Marines with Force Company, 1st Reconnaissance Battalion operate a M1161. Note the
MK-19 Grenade Launcher
mounted on the vehicle's frame. Also note the storage rack fitted to the front.
U.S. Marine Corps Photo by Pfc. Alvin Pujols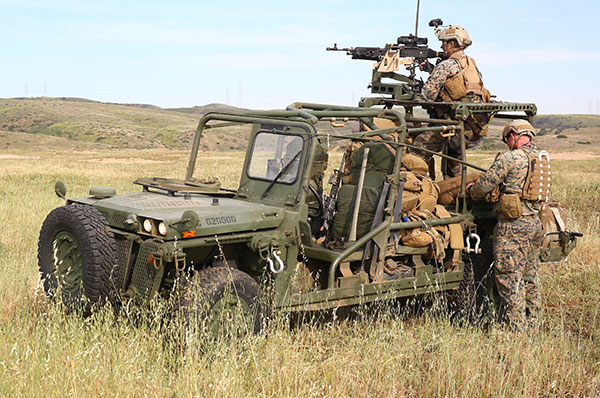 Force Recon Marines pictured with a M1161, this one fitted with a
M240 machine gun
. Note the spare wheel fitted to the front.
U.S. Marine Corps Photo by Pfc. Alvin Pujols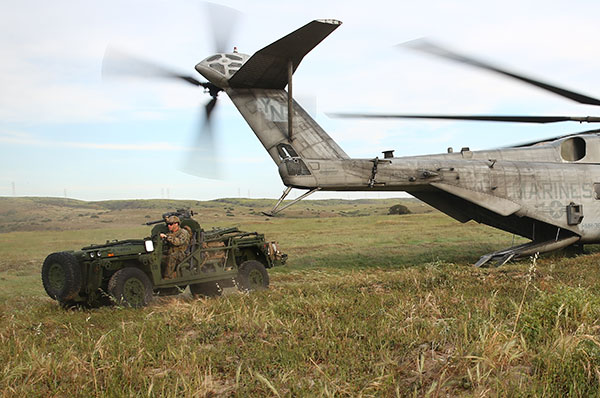 Force Recon Marines drive a M1161, having juse inserted via a CH-53 helicopter. The M1161 features a collapsible roll-cage that enables it to fit inside a helicopter or MV-22B Osprey. Immediatedly after insertion, the roll-cage is quickly assembled in order for a weapon - M240, M2, MK-19 - to be mounted.
U.S. Marine Corps Photo by Pfc. Alvin Pujols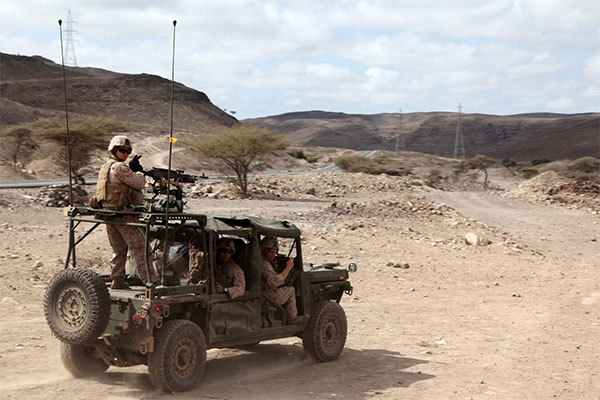 Marines with the 15th MEU train in the use of a M1161 LSV. Note the M240G machine gun mounted on the vehicle.
U.S. Marine Corps photo by Cpl. John Robbart III/Released