FBI Hostage Rescue Team (HRT)
The Federal Bureau Of Investigation (FBI) maintain a dedicated counter-terrorism unit known as the Hostage Rescue Team or HRT. It was formed in 1983 to fill a gap in federal counter-terrorism capability.
Hostage Rescue Team - Role
In addition to counter-terrorism, HRT functions as a national SWAT (Special Weapons and Tactics) unit. HRT mission profiles include:
Hostage Rescue
Counter Terrorism
Barricaded subjects
Helicopter operations
High-risk raids, searches, arrests, and warrants
Mobile assaults
Manhunt and rural operations
Maritime operations
Cold/extreme weather operations
Dignitary protection
Force protection for FBI personnel overseas
Assistance to military special missions
FBI - HRT Video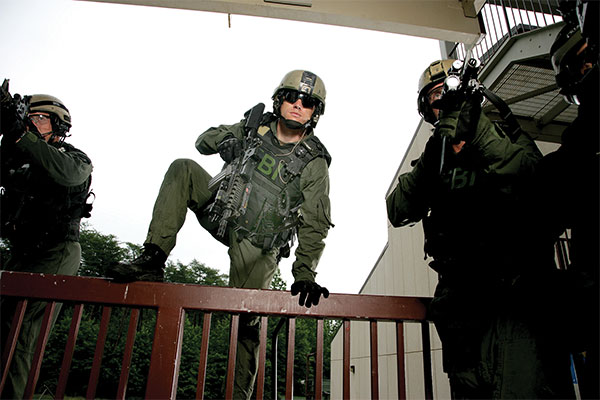 FBI HRT Assault Team gain access to a building's stairway. Typical HRT equipment includes fire-retardent overalls, kevlar ballistic MOLLE vests and kevlar helmets, eye protection and impact gloves.
photo : FBI
Hostage Rescue Team - Organization
HRT is part of the Tactical Support Branch of the FBI's Critical Incident Response Group (CIRG). It is based at the FBI Academy in Quantico, Virginia. It is thought to be manned by 100+ specially-trained FBI agents.
HRT is organized into 3 Tactical Units, Red, Blue and Gold, one of which is a designated maritime team. HRT Tactical Units consist of:
Assault Team
Snipers / Observation Team
Tactical Units rotate through 60-day cycles of operations, training and support.
Tactical Units are supported by:
Tactical Helicopter Unit
The Tactical Helicopter Unit (THU) operates a fleet of helicopters, including Bell 412EP, UH-60M Black Hawk and Bell 407 models.

Tactical Mobility Team
Vehicles operated by the Tactical Mobility Team include

Chevy dual-axle pickup trucks fitted with assault ladders for storming buildings, static aircraft etc
Chevy Suburban 4X4 SUVs
HMMWVs
DDGMC LAV-APC Bison 8×8 light armored vehicles

logistics
intelligence
communications
command element
Hostage Rescue Team - Weapons
HRT operators are armed with a variety of weapons:
1911 .45 pistol (made under contract by Springfield Armory)
MP510A3 - a variant of the MP5 SMG chambered in 10mm
MP5SD6 - a suppressed MP5, chambered in 9mm
M4 / M16 variants
H&K 416 - 5.56mm carbine also used by Delta Force and DEVGRU
Remington M40a1 sniper rifles
HK PSG-1 Sniper Rifles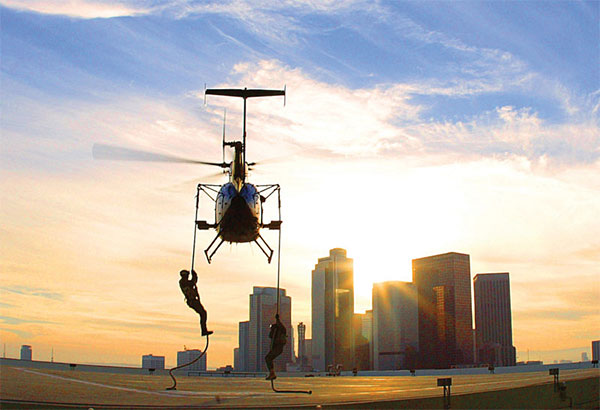 FBI Hostage Rescue Team personnel fast-rope down from a MD-530 Little Bird helicopter. Like the MH-6 operated by the
160th Special Operations Aviation Regiment
, FBI HRT MD 530s feature rigging for fast-rope insertions and fold-out benches for carrying HRT agents on the outside of the helicopter. On the 27th April, 2005, a HRT MD 530 crashed during a training exercise, injuring several of its occupants.
photo : FBI
Hostage Rescue Team Operations
Some notable operations carried out by the FBI's HRT include:
October 2013 - Libya
HRT operators, along with Delta Force and the CIA, capture terrorist Abu Anas al-Libi in Libya.
more info: Abu Anas al-Libi Capture

June2014 - Libya
The HRT carry out a joint operation with Delta Force to capture Ahmed Abu Khattala, a militia leader suspected of being behind the 2012 attack on the diplomatic mission at Benghazi.
more info: Abu Khattala Capture