M4A1 Carbine
The M4A1 Carbine is a shortened version of the M16A2 assault rifle manufactured by Colt. The M4A1 is a favorite amongst US Special Operations Forces.
The M4A1 variant comes with a safe / semi-auto / automatic trigger groups as apposed to the safe / semi-auto / 3-round burst configuration found on standard M4s.
A version with a 10' barrel / upper receiver, known as the CQBR, is also in use with Naval Special Warfare Units such as the SEALs, and opther SOF units.
M4A1 Features
The M4A1 is a 5.56mmx45mm NATO caliber weapon with a gas operated, rotating bolt action. The carbine is typically fed from 30-round STANAG magazines.
A single Picatinny rail is Featured atop the M$A1's M16A3-style falt-top receiver for mounting scopes, sights or a carrying handle. A further 4 RIS rails, one on each side of the handguards, were added via the SOPMOD Block I pacakge, developed for use by SOCOM forces.
M4A1 Specifications
weight:
5.9 lb (empty)
6/9 lb (30 rounds loaded)
length:
33 inches (stock extended)
29.8 inches (Stock retracted)
barrel length:
14.5 inches
rate of fire :
700-950 rpm
muzzle velocity :
2,900 feet per second
caliber :
5.56mm x 45mm NATO
magazine :
30 round / STANAG
M4A1 - Images and Further Info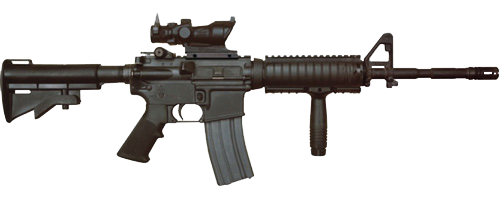 A M4A1 carbine fitted with Rail Interface System (RIS), flip-up rear sight and Trijicon ACOG 4x
US DoD Photo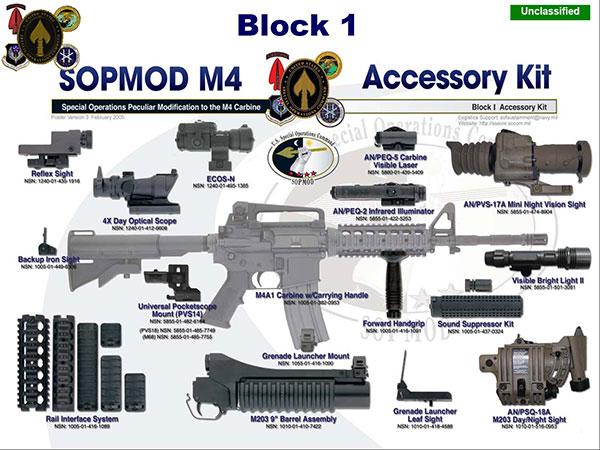 The Special Operations Peculiar Modification (SOPMOD (Block I)) kit was developed by
United States Special Operations Command
(SOCOM) and consists of a number of components, allowing the M4A1 to be highly customizable depending on specific mission requirements. (click image for larger version)
US DoD Photo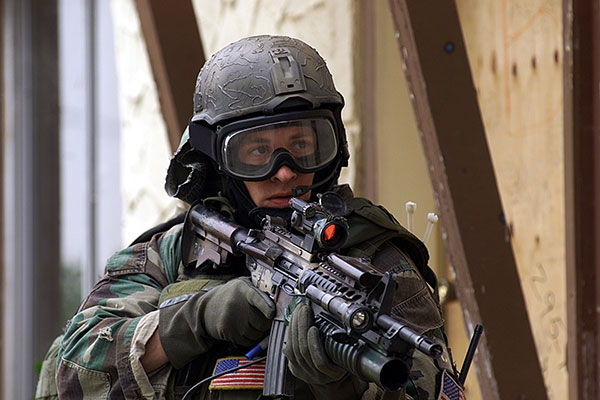 A US Special Forces soldier armed with a M4A1 Carbine, fitted with an underslung
M203 40mm grenade launcher
, aimed with a M68 Close Combat Optic red dot sight. This M4A1 also has a AN-PEQ2 and a flash-light fitted to the Rail Interface System (RIS).
US DoD Photo