1st Marine Raider Battalion - Critical Skills Operator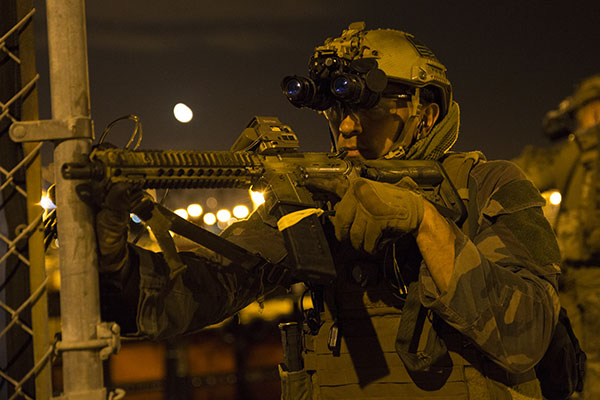 image sourced from public domain | U.S. Marine Corps Photo by SGT. Scott A. Achtemeier / Released
A Critical Skills Operator (CSO) with the 1st Marine Raider Battalion (1st MRB) watches his sector during a simulated night raid on a warehouse, September 2015.
The 1st MRB is 1 of 3 MRBs within the Marine Raider Regiment (MRR).
The tip of the MRB spear is the 14-man Marine Special Operations Team (MSOT).
This Marine Raider is armed with a MK18 carbine fitted with Daniel Defense rail interface system (RIS).
Mounted atop the carbine's receiver is a SU-231A/PEQ holographic sight.
The Daniel Defense MK18 RIS provides picatinny rails along the length of the forend and is common among United States Special Operations Command (USSOCOM) units.
The operator is wearing a MICH 2001 helmet with PVS-15 night vision goggles (NVG) attached.
Clothing includes railed a MARSOC woodland gen3 combat suit and combat gloves.