RG-33 MRAP
The RG-33 Mine-Resistant Ambush-Protected vehicle (MRAP) is a 4x4 mine-protected armored vehicle. The special operations variant of the RG-33 has been used by SOCOM units since Summer 2008 and has been deployed to Iraq and Afghanistan.
The vehicle features a V-shaped hull designed to channel blast away from the occupants as well as advanced armor for protection from IEDs and small arms fire.
The SOCOM RG-33 has seating for up to 8 passengers, features a rear door assist, air conditioning and a thermal vision enhancement system for the vehicle's driver. The SOCOM variant also features enhanced communications capability.
Atop the SOCOM variant of RG-33 there is mounted a XM153 CROWS II (Common Remotely Operated Weapon Station). The CROWS II consists of a turret, controlled from within the safety of the RG-33, typically fitted with a M2 .50 cal machine gun or MK-19 40mm grenade launcher. The CROWS II operator aquires targets via an array of sensors mounted on the turret. These include a daylight video camera, a thermal imaging camera and a laser range finder. These sensors integrate with a fire control computer to ensure accurate ballistic fire.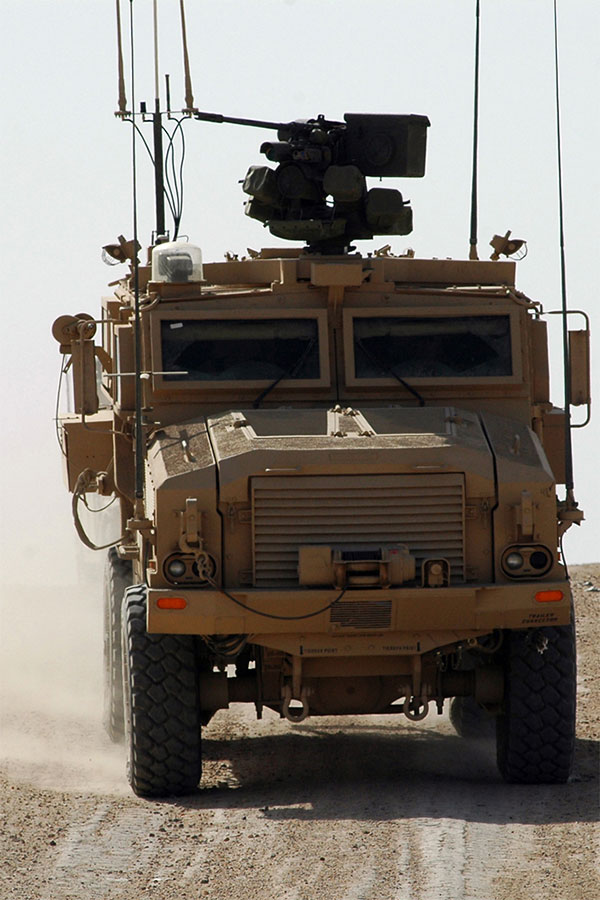 A RG-33 MRAP transports members of Special Operations Task Force-West to Camp Ramadi, Iraq, August 2008. Note the MK-19 40mm grenade launcher mounted on the CROWS II turret.
U.S. Air Force photo by Tech. Sgt. Larry W. Carpenter, Jr.
RG-33 MRAP Resources
---