Special Operations Craft-Riverine (SOC-R)
The Special Operations Craft-Riverine (SOC-R) is designed to operate along river networks and coastal areas, chiefly for the insertion and extraction of Navy SEALs. SOC-Rs are operated by SWCC Special Boat Teams.
SOC-R Features:
The SOC-R is an armored vessel with ballistic protection (up to .7.62mmx39mm ball) for the engines, helmsman and gunners. Its hull is made of aluminum with FRP accessories. The SOC-R is designed to be air transportable, with one SOC-R, its tractor towing unit, associated SBT personnel and SEAL passengers and all their mission gear fitting into a single C-130 aircraft. SOC-Rs can also be transported as under slung loads by medium-lift and heavy-lift helicopters.
SOC-R Equipment
GPS navigation
IFF (identification Friend or Foe) gear
VHF/HF/UHF/FM Net & SATCOMM
Furuno Radar mounted on arch above hull
FLIR pod mounted on radar arch
SOC-R Weapons
The craft has provisions for the mounting of the following weapons systems: (2 Forward / 3 Aft)
This impressive array of firepower is typically used to suppress the shorelines during a hot extraction of a SEAL squad.
SOC-R - Specifications
Crew
4 Crew (1 Helmsman and 3 Gunners)
Capacity
8 SEALs + mission equipment
Engines
440 Twin Yanmar 6LY2M-STE Diesels
Waterjets
Hamilton HJ292 waterjets
Dimensions
Length - 33 ft
Draft - 2 ft
Weights
10,690 kg (empty)
19,051 kg (max loadout)
Max Speed
40+ knots
Range
195 nautical miles
Armament
m2 .50 machine guns
m240 machine guns
m134 miniguns
Mk19 40 40mm grenade launchers
Avionics
GPS navigation
Furuno Radar
Forward Looking Infra Red (FLIR)
Secure radio communications (UHF/VHF/HF/SATCOMMs)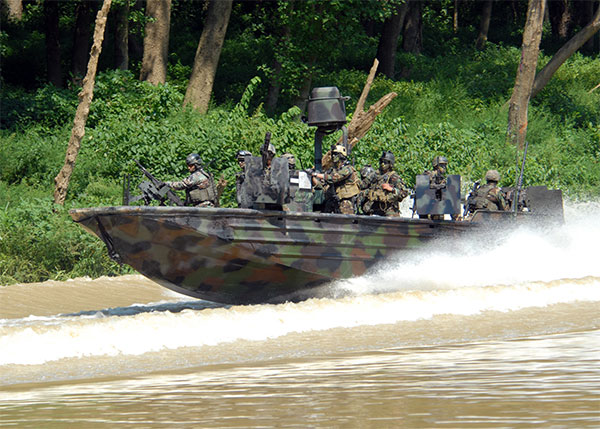 U.S. Navy photo by Mass Communication Specialist Seaman Robyn B. Gerstenslager