Delta Force - Abu Sayyaf
On Saturday, May 16th, 2015 a Delta Force team carried out a daring raid into Syria. The aim was to kill or capture a major Islamic State (IS) financier with the nom de guerre of Abu Sayyaf. Their target was believed to have facilitating the funding of IS campaigns in Syria and Iraq.
Sayyaf was holed up in a residential building complex located on the Omari oil fields in the eastern part of Syria, near the city of Deiz Ez Zor.

al-Omar oil fields
(
google earth
kmz file)
Under the cover of darkness, a special operations task force, which included 2 dozen Delta Force operators, flew in from Iraq aboard CV-22 Osprey tilt-rotor aircraft and MH-60 Black Hawk helicopters.
Apon insertion at the objective, the commandos became embroiled in a fierce firefight. Delta reportedly used explosives to blow an entry wall through the target building's wall. Moving inside, they were engaged by fanatical IS jihadists. "There was close quarters, hand-to-hand combat," one U.S. official said. Officials also stated that IS fighters used women and children as human shields but were still neutralized without any harm coming to the civilians.
Despite the intense fighting, no civilians or U.S. troops were killed or injured in the operation. At least 12 Jihadists died, including Sayyaf. Delta Force had wanted to take Sayyaf alive - the IS mastermind would have been a mine of useful Intel - but were forced to kill him when he traded fire with them.
They were, however, able to capture their target's wife, Umm Sayyaf, a woman suspected of organising IS slave-trading. Items of intelligence were also collected such as laptops and cellphones. A Yazidi woman, thought to be kept as a slave by the Sayyafs, was found at the site. She was rescued and later reunited with her family.
Before dawn, the task force were extracted by the Ospreys and Black Hawks. One of the Black Hawks had bullet holes from where it had taken enemy fire but remained airworthy.
The raid followed weeks of surveillance and meticulous planning. It was a rare example of a US SOf raid into Syria. Unlike a previous operation, the Syrian government was not informed of the operation.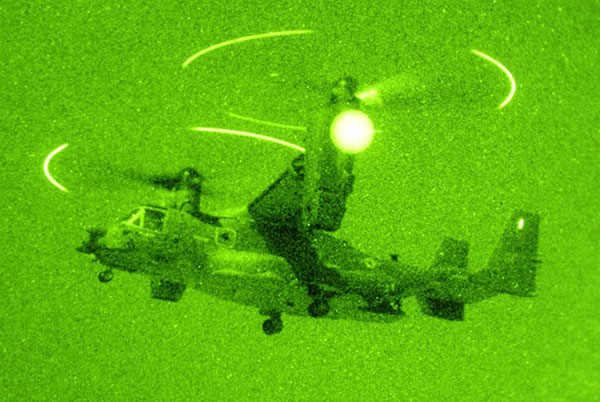 CV-22 Ospreys
flew Delta Force under the cover night into Syria. The Osprey is a tilt-rotor aircraft operated by United States Air Force Special Operations Squadrons.
Photo by Senior Airman Devin Doskey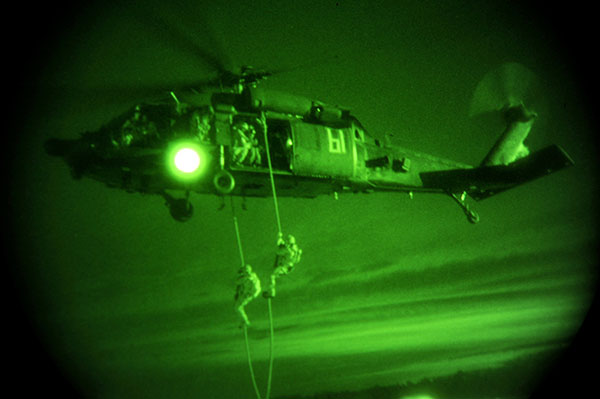 Delta Force inserted by
MH-60 Black Hawk
- a state-of-the-art helicopter operated by the Army's elite Night Stalkers.
U.S. Navy photo by Petty Officer 1st Class Elisandro T. Diaz