JSOC - Joint Special Operations Command
JSOC (pronounced 'jaysock') was established in 1980 in the aftermath of the failed attempt by US Special Operations Forces to rescue American hostages held in Iran (Operation Eagle Claw).
JSOC is designed as a common command structure between Army, Air Force and Navy Special Operations elements. As can be deduced from its subordinate units, JSOC's current focus is thought to be counter terrorism. JSOC is a component of United States Special Operations Command (USSOCOM or SOCOM)
JSOC - sometimes referred to as the National Mission Force - is based at Pope Air Force Base and at Fort Bragg, both of which are in North Carolina.
JSOC - Components
JSOC has the following units under its umbrella:
When operating as part of a JSOC task force, attached supporting units such as elements of the 75th Ranger Regiment and the 160th Special Operations Aviation Regiment will fall under control of JSOC. Special Forces CIF companies may also be temporarily brought in for JSOC operations.
Lesser known JSOC components include:
Joint Communications Unit (JCU)
The Joint Communcations Unit (JCU) provides global signals support for JSOC operations. The JCU provides communication links between JSOC elements and, if needed, other parties. It is based at Fort Bragg but may deploy detachments in support of JSOC operations anywhere in the world. JCU communicators graduate from the Special Operations Radio Operators Course, a 6-month training program which teaches the required technical skills. The course also teaches advanced tactics, driving and marksmanship. JCU personnel may attend other military schools such as airborne training.


Aviation Tactics and Evaluation Group (AVTEG)
AVTEG analysises JSOC's avaiation needs, sources aircraft and provides highly skilled pilots. This secretive unit is believed to be organized into 3 battalions. Elements include, among others, an Air Logistics Division, Strike Warfare Division and a Rotary Wing Assault Operations Branch. AVTEG tested the stealth black hawk helicopters employed in the raid that killed Bin Laden.


66th Air Operations Squadron (66th AOS)
Based at Pope AFB, the 66th Air Operations Squadron flies C-130 and other transport aircraft in support of JSOC missions.


Technical Applications Program Office (TAPO)
Procures and deploys new technology for JSOC aviation elements. Such activities included fitting a special SIGINT collection package to RC-12 Guardrail aircraft operated by the ISA.


Ground Applications Program Office (GAPO)
Develops and fields technological programs in support of Delta Force and other JSOC elements.


JSOC Intelligence Brigade (JIB)
Stood up in 2008, the JSOC Intelligence Brigade analyzes intelligence from a wide variety of sources and desminates it throughout JSOC. The brigade features planning, interrogations and intelligence support divisions.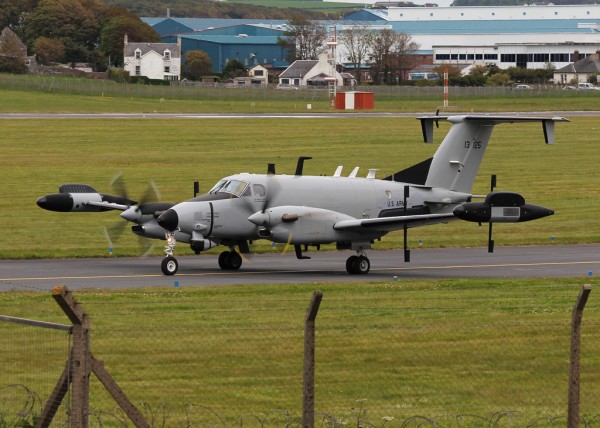 Photo of a RC-12 Guardrail aircraft. Such planes are festooned with antennae for the collection of electronic signals. RC-12s with an ISA-specific 'LIBERTY BLUE' SIGINT package, fitted by JSOC's Technical Applications Program Office, have been used to track and monitor terror suspects in places such as Africa.
photo : US DoD
Other units that are either detached to or directly support JSOC include:
PSYOPs
JSOC is provided Military Information Support Operations (MISO, previously known as PSYOPs) by a division within the Intelligence and Operational Security Directorate (ISOD).


Army Compartmented Element (ACE)
ACE is an United States Army Special Operations Command (USASOC) directorate involved with providing intelligence for Army special operations units. Within ACE is a unit known simply by its abbreviations, BI. This secretive cell is beleved to be staffed by undercover female intelligence collectors and interrogators.

Note: It has been rumoured that Delta Force has also been known as Army Compartmented Element (ACE). This confusion may have been the result of a deliberate effort to obscure any open source reference to one or both units, although it may simply be a case of someone seeing the ACE's listing in Fort Bragg's phone directory and assuming this was Delta Force's new cover name.

JSOC Operations
Since it was incepted in 1980, JSOC has carried out many operations around the world.

more info : JSOC Operations
---