75th Ranger Regiment
The 75th Ranger Regiment, or 'The Rangers', are are an elite U.S. Army light infantry special operations unit.
Rangers - Roles
airborne / air assaults
direct action operations
raids
airfield seizure
recovery of personnel and special equipment
support of general purpose forces (GPF)
Rangers often provide support to other Special Operation Forces (SOF) such as Delta Force. In such operations, the Rangers will typically act as a security and/or backup force for Delta. An example of this type of mission occurred during Operation Gothic Serpent, Somalia, 1993 during which Rangers provided a security cordon for several Delta Force operations. Rangers have provided a quick reaction force (QRF) for SOF task forces operating in Afghanistan and Iraq.
75th Ranger Regiment Organization
The 75th Ranger Regiment is made up of a regimental headquarters and headquarters company (HHC) and several battalions.
The regimental headquarters and headquarters company (HHC) consists of:
Commanding Officer (colonel)
CO's staff
Special staff (communications officer, fire support officer, surgeon, staff judge advocate, USAF weather officer and USAF tactical air control officer)
HQ Company Staff
Fire Support Element
Communications Platoon
Medical Treatment Team
RIP (Ranger Indoctrination Program).
Ranger Battalions
1st Ranger Battalion
2nd Ranger Battalion
3rd Ranger Battalion
Regimental Special Troops Battalion
Each of the 1st, 2nd and 3rd Ranger Battalions are around 600 men-strong and are made up of a battalion headquarters and headquarters company (HHC) and 4 rifle companies.
The Battalion HHC is comprised of:
Battalion Company headquarters
Fire Support Team
(includes Battalion Mortar Platoon)
USAF FAC Team
Medical Team
Communications Team
Reconnaissance Platoon
Support Section
Ranger Rifle Companies
A Ranger rifle company typically consists of 152 Rangers, divided into:
headquarters and headquarters company (HHC)
3 x rifle platoons

platoon headquarters

platoon leader
platoon sergeant
platoon RATELO

3 x 9-man rifle squads

squad leader
2 x fire teams

1 x machine gun squad
(M240G, M240L, MK48)


machine gun squad leader
3 x 2-man machine gun teams

machine gunner
assistant machine gunner

1 x weapons platoon
Regimental Special Troops Battalion (RSTB)
The 75th Regimental Special Troops Battalion (RSTB) was offiicaly activated in 2007. It provides support to the rest of the Regiment in a number of ways including reconnaissance, signals, intelligence and a selection course for potential Rangers.
Regimental Reconnaissance Company (RRC)
carries out special reconnaissance for the 75th Ranger Regiment and JSOC.

more info: Regimental Reconnaissance Company


Ranger Communications Company (RCC)
provides the Rangers with command and control-level communications


Military Intelligence Company (MICO)
carries out a wide spectrum of intelligence gathering, including human intelligence (HUMINT), signals intelligence (SIGINT) and imagery intelligence (IMINT)


Ranger Operations Company (ROC)
carries out selection and training tasks

Rangers - Video
Rangers - Organization
Rangers - Weapons
US Army Rangers employ a range of weapons systems.

more info : Rangers - Weapons
Rangers- Operations
The modern 75th Ranger Regiment began as the 1st Ranger Battalion in 1974. Further battalions were to follow until the 75th Ranger Regiment was created in 1986. Rangers have operated in South America, Africa and the Middle East.
more info : Rangers Operations
Rangers - Training
Rangers undergo a grueling and extensive training regimen.

more info : Ranger Training
Rangers - Photos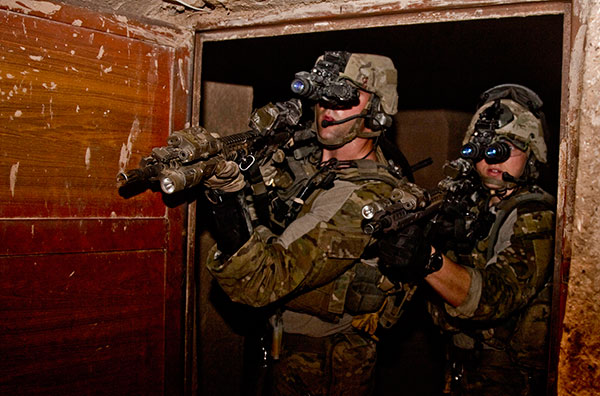 Rangers with the 75th Ranger Regiment clear a compound during an operation in Afghanistan, 2012
U.S. Army Photo by U.S. Army Spc Justin Young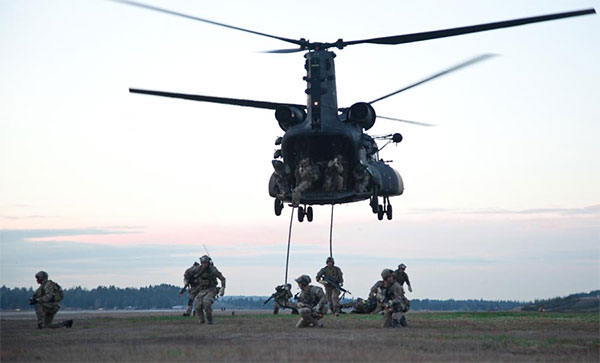 Rangers with B Company, 2nd Battalion, 75th Ranger Regiment fast-rope from a MH-47 Chinook helicopter.
U.S. Army photo by Pfc. Connor Mendez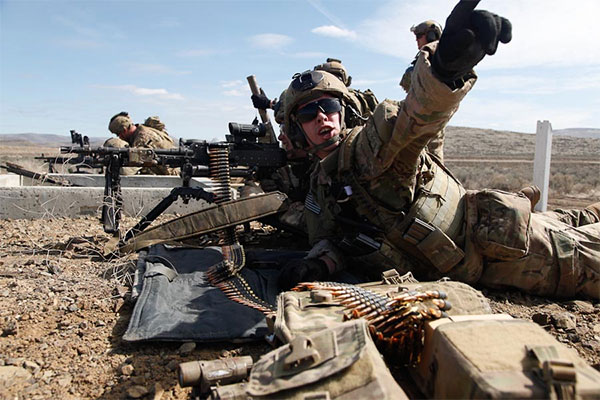 A machine gun squad with D Company, 2d Ranger Battalion pictured during task force training.
U.S. Army photo by SPC Justin English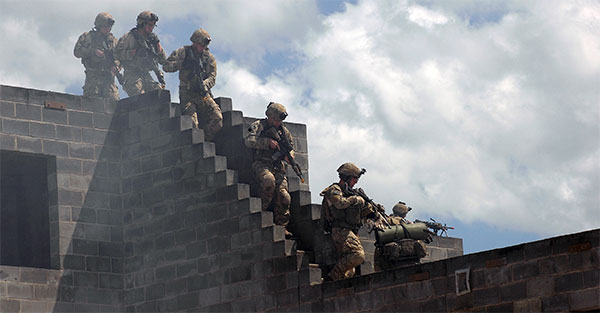 Rangers pictured during a direct action demonstration.
U.S. Army photo by Sgt. 1st Class Michael Noogle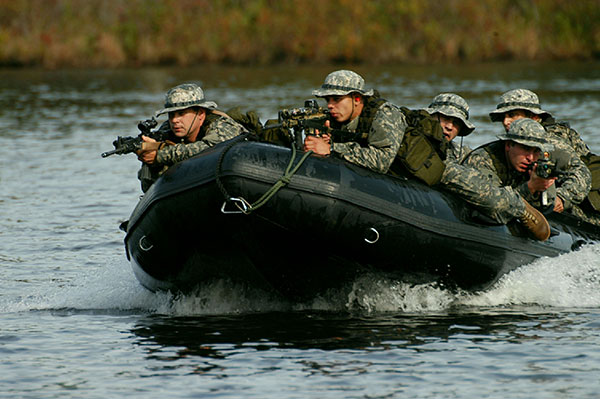 Rangers move down a river aboard a combat rubber raiding craft (CRRC), or 'Zodiac' infaltable boat.
U.S. Army Photo
---
Rangers Resources
Ranger Photos
Ranger Videos