Maritime Security Response Team Operators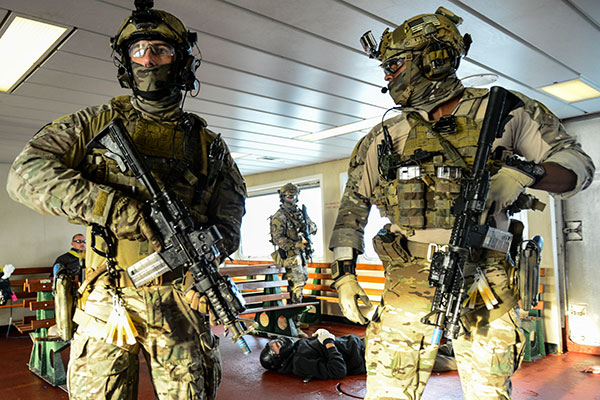 image sourced from public domain | U.S. Coast Guard photo by Petty Officer 3rd Class Ross Ruddellt
Operators with the Virginia Maritime Security Response Team (MSRT) Direct Action Section (DAS) pictured during a training exercise aboard a ferry. The MSRT boarded the vessel via small boats then dealt with a simulated active shooter and explosive device threat.
The MSRT is the U.S. Coast Guard's proactive maritime tactical team. The DAS are the unit's 'shooters'.
The DAS operators pictured here are armed with 5.56mmx45mm MK-18 carbines and .40 S&W Sig Sauer P229R DAK pistols, both configured to fire simmunition training rounds.
The MSRT operators are wearing multicam plate carriers and clothing. They are wearing multicam balaclavas and Peltor Comtac III headsets under Ops-Core FAST Ballistic Maritime helmets, also in multicam.