Rangers - MH-6 Helicopter Fast-Rope Insertion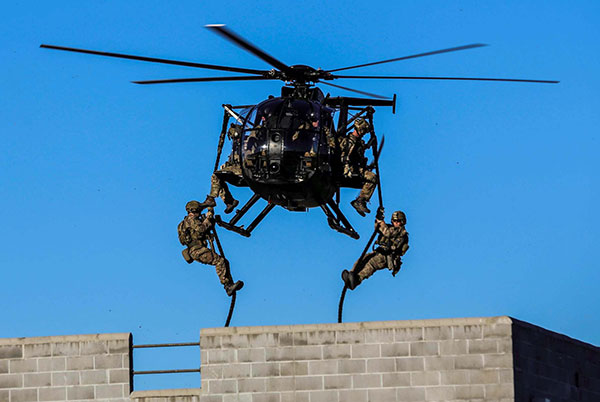 image sourced from public domain | U.S. Army photo by Pfc. Gabriel Segura
Rangers with the 1st Battalion, 75th Ranger Regiment fast-rope down from a MH-6M Little Bird helicopter flown by the 160th SOAR (Night Stalkers) and fitted with fast rope insertion / extraction (FRIES) gear.
The MH-6 can accomodate up to 6 Rangers, 3 on each external personnel pod (EPS).
The Rangers are frequent 'customers' of the Night Stalkers and regularly train in air assault operations with the Littlebird, Black Hawk and Chinook helicopters operated by the elite U.S. Army aviation unit.