Ranger Special Operations Vehicle (SOV)
The Ranger SOV is a 4x4 vehicle used by the 75th Ranger Regiment. Based around the Land Rover Defender 110 series, the SOV is used as a light attack and reconnaissance platform.
The Rangers chose the Land Rover SOV because it has a greater capacity than DPV/LSV buggies but, unlike the HMMWV, is small enough to be readily transported by helicopter (2 fully equipped SOVs fit in the belly of a Chinook helicopter), something vital for air-deployable forces such as the Rangers. The SOV can carry up to 7 Rangers.
Land Rover SOVs feature a set of pintle mounts and rollbars onto which various weapons can be fitted. These include:
Along with the ammunition for these weapons, SOVs will also carry spare fuel, communications equipment (radio mounted in a box on the hood), sand channels and shovels for extricating the vehicle when it gets bogged down, spare ammo for the Ranger's personal weapons, rations etc.
Use within the Rangers
Each Alpha Company within a Ranger Battalion are equipped with 12 SOVs, each deployed in 4 platoons, further split into 2-vehicle sections, supported by 2 Kawasaki KLR 250 motorcycles. Each SOV section will typically consist of:
1 Land Rover SOV fitted with

M2 .50 machine gun (rear)
M240 machine gun (front)

1 Land Rover SOV fitted with

MK-19 40mm grenade launcher (rear)
M240 machine gun (front)
Each SOV is typically crewed by 3
Truck Commander (TC) - seated front-left
Driver
Top Gunner - situated in the rear
In addition to the crew, a 4-man Ranger fire team can also be transported on the SOV
Other uses of the Land Rover SOV platform within the Rangers include:
MORTSOV
Used by the mortar platoon within each Ranger company, the MORTSOV has been converted to transport up to 30 120mm mortar rounds. The MORTSOV can also tow the platoon's mortars.
MEDSOV
Each Ranger battalion is equipped with 2 MEDSOVs. These medical variants of the SOV have had their rear gun mounts removed to accommodate up to 6 litters for carrying casualties
view photo of MEDSOV
Land Rover SOV - Specifications
Engines
Four-Cylinder Turbocharged Diesel
Dimensions
Length : 173.8 inches
Height : 76-inch (without gun mounts)
Width : 70.5 inches
Weight
7734 lb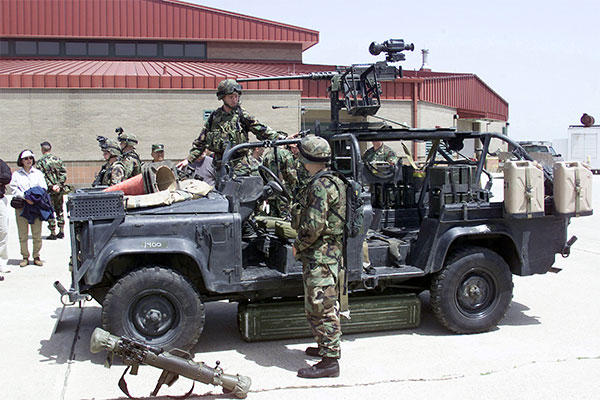 A Land Rover Special Operations Vehicle from the 1st Battalion,
75th Ranger Regiment
. This SOV is armed with a .50 RAMO M2HB-QCB machine gun
DoD photo by: MICHAEL LEMKE, CIVILIAN