Combatant Craft Assault Craft (CCA)
The Combatant Craft Assault (CCA) is a fast boat operated by Naval Special Warfare Group 4 Special Boat Teams (SBT 12 & SBT 20).
The CCA's primary role is medium range maritime interdiction operations (MIO) in medium-to-high threat environments. It can also perform insertion / extraction of special operations forces (SOF) and coastal patrol operations.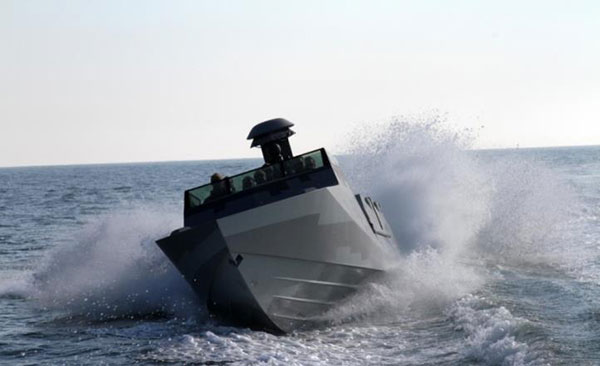 A Combatant Craft Assault - note the distinctive sensor / communications mast.
US DoD photo
The CCA operates in the niche between the venerable NSW RHIB and the new Combatant Craft Medium (CCM). It is smaller, more agile and transportable than its CCM cousin. Like the CCM, the CCA can be air transported via C-17A globemaster III aircraft. Unlike the CCM, the CCA can be airdropped onto water under parachute from the C-17. The CCA can also be taken on and off Naval boats via crane, whereas the CCM can only operate from certain larger vessels.
The CCA achieve initial operational capability (IOC) in late 2015.
Combatant Craft Assault Features:
The CCA's mono-hull is design includes components made from SPRINT composite materials, resulting in a lightweight but durable craft. The boat is powered by high performance diesel engines. It features an open top design with a windshield / shroud around the crew compartment. The craft appears to have fold-up armour plating for protection of crew / passengers.
CCA Equipment
Sensors aboard the CCA include a maritime radar mounted on a mast along with communications antennae and a Combatant Craft Forward Looking Infrared (CCFLIR), which includes infrared and day and low light video cameras and a laser range finder and pointer.
There are plans to develop a Surface Search Phased Array (SSPA) radar for use by the CCA, CCM and CCH fleets. This will be able to detect and traxck targets on the water and in the air. The SSPA is low observable (LO), with a low probability of detection (LPD) and low probability of intercept (LPI). The SSPA will replace the commercial-grade maritime radara currently employed.
CCA Weapons
Little is publicly known about the CCA's armaments although it is likey that it can accomodate the mounting of various weapon systems, including:
CCA - Specifications
Crew
TBC
Capacity
TBC
Length
41 feet
Payload
TBC
Max Speed
TBC
Range
TBC
Avionics
Combatant Craft Forward Looking Infrared
Maritime radar.
GPS navigation
Secure radio communications (UHF/VHF/HF/SATCOMMs)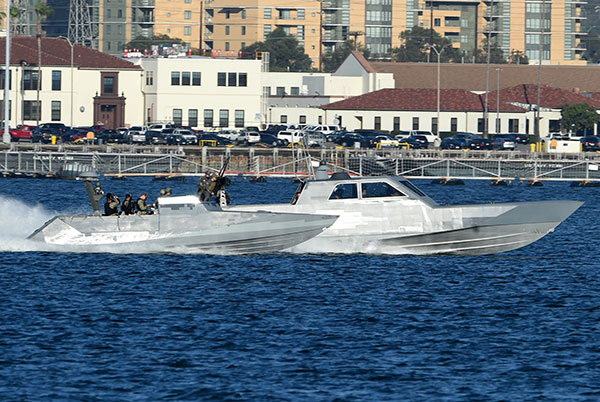 A CCA (left) pictured alongside a Combatant CraftMedium (CCM) on San Deago Bay. The CCM is nearly 20 feet longer than the CCM.
U.S. Navy photo by Mass Communication Specialist 2nd Class Timothy M. Black/Released
A number of Combatant Craft Assault boats can be seen working alongsiide NSW RHIBs in this NSW demonstration at Coronado base, 2015