FBI SWAT
The Federal Bureau Of Investigation (FBI) field office maintains a number of Specialized Weapons and Tactics (SWAT) teams.
FBI SWAT - Role
FBI SWAT teams are trained to intervene in a number of scenarios:
High-risk raids, searches, arrests, and warrants
Barricaded suspects
Hostage rescue
Stronghold assaults (breaching and storming buildings)
Tublar Assaults (storming buses, trains and aircraft)
Vehicle stops
Manhunt and rural operations
Dignitary protection
Conduct site surveys for special events
Maritime operations
FBI SWAT - Organization
Each of the FBI's 56 field offices throughout the United States maintains a SWAT capability. FBI SWAT teams vary in size up to 42 members. Specialities within a SWAT team include:
assaulters
snipers
breachers
medical technicians
rappelmasters
tactical air operations officers
SWAT teams typically deploy under the command of an Assistant Special Agent in Charge or higher who acts as the On-Scene Commander. SWAT teams are made up of volunteers from the FBI. As FBI SWAT teams are not full-time commitments, its members also carry out normal FBI case duties.
Enhanced FBI SWAT Teams
There are a number of 'enhanced' FBI SWAT teams stationed around the country who train to a higher standard and are capable of augmenting the FBI's elite Hostage Rescue Team on operations. Enhanced FBI SWAT teams are typically larger than regular teams and have access to more extensive tactical equipment.
FBI SWAT - Selection and Training
A stringent selection process tests candidates in marksmanship, physical fitness, judgment, problem-solving, communications, among other physical and mental challenges. Potential SWAT team members must complete both the SWAT and Weapons of Mass Destruction (WMD) basic training courses.
SWAT team members undergo regular training regimens in weapons and tactical scenarios.
FBI SWAT - Weapons
FBI SWAT operators are armed with a variety of weapons:
1911 .45 pistol (Springfield Custom model)
Glock 22 .40 pistol
MP5/10 - MP5 chambered in 10mm
Remington sniper rifles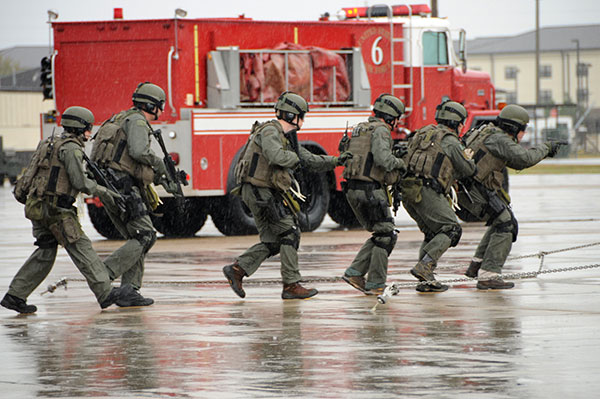 FBI SWAT team moves in to surround a parked C-130 aircraft during an anti-hijack exercise at a US air base.
U.S. Air Force photo by Kemberly Groue/Released