Special Forces - Combat Divers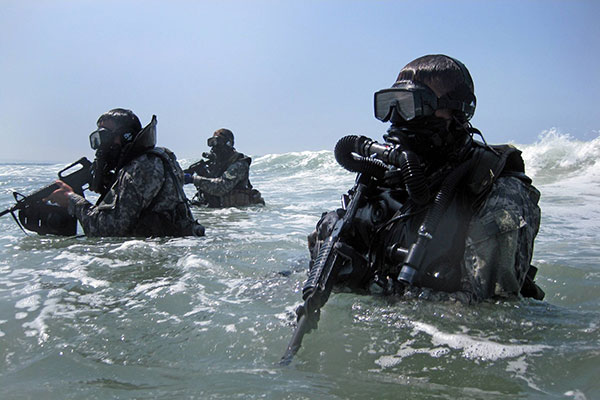 image sourced from public domain | photo : USASOC
Special Forces combat divers, wearing rebreathers, train in seaborne infiltration techniques at the Special Forces Underwater Operations School in Key West, Florida.


One of the six Operational Detachtment Alpha (ODA) teams within each Special Forces Company is designated as a combat dive team.
These teams specialize in open circuit and closed circuit SCUBA diving and other amphibious infiltration / exfiltration methods.


Special Forces soldiers in the dive teams undergo a seven-week Combat Diver Qualification Course, or CDQC at Naval Air Station Key West.
Open to Special Forces and Ranger NCOs and run by C Company, 2nd Battalion, 1st Special Warfare Training Group, U.S. Army John F. Kennedy Special Warfare Center and School, the CDQC is considered one of the toughest in the Army.
The CDQC teaches closed circuit diving (rebreather), small boat operations (zodiac and kayak), the use of diver propulsion devices (DPDs) and helocasting (jumping into the water from helicopters).
The course culminates in a 48-hour field exercise in which the students, operating as a full-size combat dive team, carry out an amphibious mission with the instructors acting as the apposing force.